Want to sell to China with WeChat? Learn how your global ecommerce store can function as a WeChat store. Take your sales to the next level.
Looking to sell to the 1+ billion people in China?
Wechat shop gives merchants the e-commerce platform suitable to set up their shop after due verification. This includes Wechat shop set up, customization and payment integration. With a brand shop fully configured, management of stocks and monitoring of sales will pass through Wechat payment system. What is a wechat store One of the main benefits of a store is that it is hosted within the most trusted and frequently used social network in China. As WeChat is becoming the do-it-all super platform, more and more official accounts are linked to a WeChat store. Users are used to shopping without leaving WeChat. A WeChat Store or Weixin Store is a mobile website that is linked to the menu of a WeChat Official Account. All the WeChat users will have access to your WeChat store and will be able to perform a one-click-payment through WeChat Payment, commonly called WeChat Pay.
This article explains how your international ecommerce website can double up as a WeChat store.
By double up, I mean that your international and China site share the same codebase.
There are several benefits for doing so. First, universal maintenance, upgrades and scaling. This in turn leads to lower costs and faster feature rollouts. Second, centralized customers, orders and data. This allows you to achieve a single view of customer across countries more seamlessly.
Why WeChat?
(skip this section if you already know why)
If you are new to selling in China, read on.
Retailers generally have three options for selling in China:
Marketplaces: Taobao, Tmall and Jingdong
WeChat store
Your own e-commerce website
Wechat Store Malaysia
The marketplaces are where >85% of the online sales take place. However, brands are starting to move away from them for a few reasons.
First, the customer belongs to them, not the brand. Second, it is difficult to build a unique identity because you have to conform to the layouts on their website. Third, you have a pay a third-party provider (TP) a lot of money to maintain, market and fulfill your products.
Therefore, brands are moving towards the WeChat community for a solution. WeChat has 768 million active users, which is a lot of market share in China!
WeChat allows businesses to set up an official account with them and launch their ecommerce site as a HTML app that is embedded within a webview on their site.
Leftmost Screenshot: WeChat official account page with menu that leads to WeChat store
Center and Right Screenshots: WeChat app with webview showing the ecommerce site
For completeness sake, why not your own ecommerce store? If you have a WeChat store, you also by default have your own ecommerce website.
The reason why people rarely discuss your own ecommerce store is because driving traffic to it without leveraging an ecosystem like WeChat is very challenging.
‍
Step 1. Preparing your ecommerce website for WeChat
To prepare your website for WeChat, you have to do several things.
First, language and currency. Your e-commerce store has to be multi-lingual and multi-currency and support Simplified Chinese and RMB.
Second, payments. Your e-commerce store has to support WeChat pay. That is the only payment method allowed on the WeChat platform.
Third, accounts. Users should be forced to create an account via WeChat oauth. This is so that you are able to map your customers to their WeChat Ids so that you can send push messaging and promotions to them.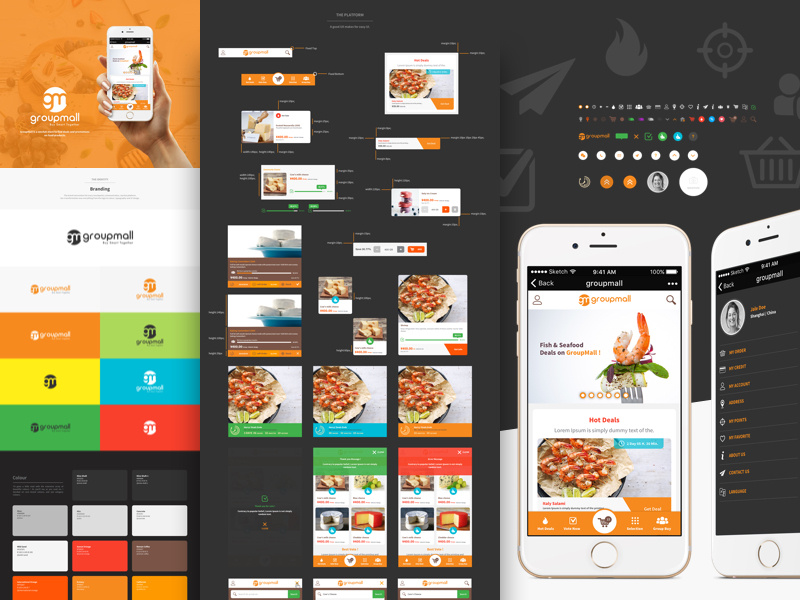 Fourth, mobile first. Most ecommerce sites in China do not even have a desktop version. This means the required user experience in China is a mobile first experience as opposed to a mobile responsive one. This means your website should appear and feel on mobile more like a native app than a website.
‍
Step 2. Setup WeChat official account
On the administrative side, you will need a WeChat official account in China. There are two ways to do this.
The three way is to create an account with a foreign entity.
The process takes approximately 3 months and requires that you have an entity in the following countries:
Asia: Hong Kong, Macau, Taiwan, Japan, Korea, Malaysia, Singapore, Thailand, Russia
Europe: Germany, France, England, Italy
North America: United States, Canada
Oceania: Australia, New Zealand
The second way is to create an account with a Chinese business license (营业执照).
This requires that you set up a China Wholly Foreign Owned Entity WFOE, a Chinese bank account and the Chinese ID (身份证) of a mainland Chinese citizen with a WeChat payment account linked to the bank card.
The third way is to work with a Chinese company and have them apply and manage an official account under their business license on your behalf.
Additionally, if you'd like to also have a Chinese website to accept shoppers outside the WeChat platform and to accept Alipay as a payment option, you'll need to apply for the following:
.cn domain
ICP registration, the license that allows you to operate a website
If you would like to do this, feel free to contact us and we can connect you to partners who can help.
‍
Step 3. Let users in China access your site
Many international websites are blocked from within China by the Great China Firewall (GCFW). To get over this problem, you have to set up a reverse proxy that tunnels any traffic to your China site to your international site.
In addition, all your Javascript, css and image assets need to be hosted within China, preferably via a China CDN.
The structure of what you have to set up looks like this:
‍
Wechat For Pc Windows 10
Wechat Store Setup
Conclusion
That's a wrap! After you complete the 3 steps above, visitors to your WeChat official account can now browse and buy products on your international site as per normal in China.
If you would like to get your e-commerce site ready for selling in China on WeChat, feel free to reach out to [email protected]
‍