NEW YORK (AP) — Singer Daddy Yankee ousted Ed Sheeran from the No. 1 spot on Spotify to become the first Latino artist to lead the music platform.
The Puerto Rican superstar of reggaeton has hits that include "Gasolina," "Shaky Shaky" and "Despacito," a song co-written with Luis Fonsi. He's surpassed 44,735,586 monthly listeners to reach the first global spot, Spotify announced Sunday in an email sent to The Associated Press.
Daddy Yankee is the 1st Latino artist to lead Spotify. The 'Despacito' co-writer has surpassed 44,735,586 monthly listeners to reach the 1st global spot. File photo of Daddy Yankee, who is. The Top Songs, Artists, Playlists, and Podcasts of 2019—and the Last Decade December 3, 2019 As 2019 draws to a close, so too does a stellar year of streaming on Spotify.
"Being the first Latin artist to reach (hash)1 in Spotify marks a precedent not only for my career but for the industry in general," Daddy Yankee, whose real name is Ramon Luis Ayala Rodriguez, said in an email. "The musical digital revolution has unified the world and this is the proof. We are all in the same boat with no labels or stereotypes."
He recalled that, when he started his career in 1992 in Puerto Rico, many didn't believe he would last more than three years, much less that he would become an international sensation.
"But I never stopped," he said. "I had to keep fighting. I had to make big sacrifices, to miss important moments with my family, to feel the prejudice of many people that didn't open the doors for me."
Rocio Guerrero, Spotify's head of Latin culture, shows & editorial says: "Spotify has been supporting Latin music for many years, and this is the moment that shows our passion and love for the genre are equally supported by our audience. We are grateful for all of our artists, and specifically for Daddy Yankee's influence in bringing global appreciation to Latin music."
The remix to "Despacito," featuring additional vocals by Justin Bieber," is No. 1 on Spotify's global charts.
More than a decade after Daddy Yankee's best-selling album, "Barrio Fino," and the single "Gasolina" that made him a global star, the Latin Grammy Award winner is still one of the most influential and recognizable names in reggaeton.
"Today, this genre is the most listened to in the world," Daddy Yankee said. "Thanks to all the fans and colleagues that gave me the opportunity to collaborate with them. We did it!"
Copyright 2021 The Associated Press. All rights reserved. This material may not be published, broadcast, rewritten or redistributed.
As 2019 draws to a close, so too does a stellar year of streaming on Spotify. You may be reflecting back on the past 12 months, thinking about your own music discoveries and the songs you repeated over, and over, and over. (You'll be able to check them out on your personal Wrapped cards later this week). We're doing the same—but for the entire world.
We dove into the newcomers, showstoppers, and top performers who united the globe with music and podcasts this year. And ahead of the brand-new decade, we also looked back on the last 10 years in music to reveal who dominated global listening.
So, what did the world listen to in 2019?
This year, Post Maloneclaimed the spot of most-streamed artist with over6.5 billion streams from fans around the globe. It's the rapper-singer-songwriter's first time topping Spotify's Wrapped list, and he did it just 12 weeks after dropping his album Hollywood's Bleeding (which also happens to be the second most-streamed album globally this year). His collaboration with Swae Lee on "Sunflower" from Spiderman: Into the Spiderverse rounded out the top three most-streamed songs of the year, which gives the artist a spot in each of our three major music categories (top artists, top songs, and top albums).
The second-most-streamed artist of the year is 17-year-old singer-songwriter and first time Grammy nominee Billie Eilish, who by now, definitely deserves that crown. In this year alone, she dropped her album WHEN WE ALL FALL ASLEEP, WHERE DO WE GO? and surpassed 6 billion streams. The album has proven to be the top-streamed release of 2019, marking a milestone—Billie is the first female artist to have her album top the Wrapped most-streamed album category. Her dark staccato hit "bad guy" also ranks as the second-most-streamed song of the year.
Finally, Ariana Grande released her immensely popular album thank u, next in February, propelling her to number three on Spotify's list of most-streamed-artists globally. Her song "7 rings" was also in the top five most streamed this year, giving Ariana a strong two years in the top 10 of Spotify's Wrapped list. Listeners also showed Taylor Swift lots of love, making her the year's third top-streamed female artist after her album Lover generated popular tracks like "ME!" and "You Need to Calm Down."
When it comes to the most-streamed female artist of the decade, Ariana once again takes the cake. Only tears of joy left to cry for this one. (And the top male artist? Last year's Scorpion king, Drake.)
The year's top song comes from the duo that took the Northern Hemisphere's summer by storm: "Señorita" by Shawn Mendes and Camilla Cabellosaw more than 1 billion streams. After "Señorita," "bad guy," "Sunflower," and "7 rings," the year's fifth-most-streamed track came from Lil Nas XandBilly Ray Cyrus. Theytook their horse all the way to the front with "Old Town Road – Remix."
This year was a big one for podcast growth on Spotify. There are now more than 500,000 podcast titles available, and our podcast audience has grown by more than 50% since the start of the year. We've also seen a 39% increase in podcast hours consumed by listeners quarter over quarter.People are clearly loving podcasts, tuning in the most to Spotify Original The Joe Budden Podcast with Rory and Mal, followed by My Favorite Murder with Karen Kilgariff and Georgia Hardstarkand Germany's Gemischtes Hack.The most-streamed podcast genre of 2019 was comedy, showing that laughter is truly universal.
Take a look at some of the world's top songs, artists, genres, and trends:
Can't get enough of the chart toppers? Check out our lists of the top artists, songs, albums, groups, podcasts, and more below—and don't forget to tune in later this week to theWrapped microsite to see your personal favorites and receive a playlist based on your tastes. Plus, we've also created the ultimate Playlist of the Decade: the biggest songs of the past 10 years according to fan streaming.
So without further ado …
Spotify No 1 Artist List
Spotify's Global Top Lists 2019:
Most-Streamed Artists
Most-Streamed Female Artists
Most-Streamed Male Artists
Most-Streamed Tracks
Most-Streamed Albums
Most-Streamed Podcasts
Most-Streamed Spotify Original Podcasts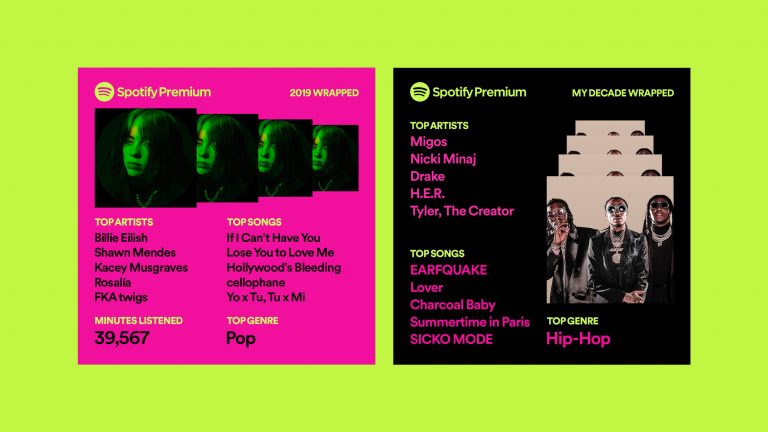 Spotify No 1 Artist Profile
"A Decade Wrapped" Spotify's Top Lists 2010–2019
Most-Streamed Artists of the Decade (Global)
Most-Streamed Female Artists of the Decade (Global)
Most-Streamed Male Artists of the Decade (Global)
Most-Streamed Tracks of the Decade (Global)
Click here to download the infographic.