Royal Mail Direct Mail Marketing
Rewind a few years to the breakthrough of email as a widespread communication tool. Many industry experts were convinced that the immediacy and targetability of email would cement its position as the direct marketing technique of choice – to the obvious detriment of more traditional methods such as direct mail. Yet whilst the fortunes of direct mail have fluctuated since email's arrival, the technique has remained an essential component of the marketing mix.
How to get the most from direct mail. Direct mail has long been a proven as a cost-effective channel for communicating successfully with customers. Because it's tangible – picked up and handled by a customer – direct mail is a channel that will cut through and be remembered. In fact, 94% of advertising mail is engaged with and only 6% is. "Campaigns that included Mail were 40% more likely to deliver top-ranking acquisition levels than campaigns without Mail," Royal Mail MarketReach. Direct Mail Marketing Boosts Your Overall Marketing. Direct Mail Marketing is a must in every B2C and B2B marketing campaign!
In fact, today, the medium is on the cusp of a true renaissance – the first consideration for many brands rather than an afterthought. This renaissance is reflected in usage and open-rate statistics. In its recent response rate report, the Direct Marketing Association found that direct mail achieves a 4.4% response rate compared to email's 0.12%.
So, what are the factors behind direct mail's popularity and success today? Certainly, advances in printing quality and the creative use of envelopes and document seals have combined to create messages that really stand out. Crucially, this creativity is happening at a time when consumer distrust for all things digital is prevalent.
Analysts are calling this the 'post-truth' world, a world of uncertainty in which opinion is umpired by internet voices and accusations of 'fake news' abound. This doesn't negate the great digital marketing work that is being done by leading players. But it does mean that the printed word is beginning to be associated with greater credibility and trust. Consumers understand that mail takes more time and effort to produce, and the perception is of messaging that is more considered and thought-through compared to quick-fire email.
Royal Mail Direct Mail Marketing Program
The introduction of GDPR legislation is indicative of the atmosphere of mistrust surrounding digital. GDPR was brought in to better protect the rights of citizens and to govern the way that companies harbour data and communicate with it. Understandably, GDPR caused concern amongst brands who wondered how it would impact marketing results across all channels. However, savvy businesses are working within the GDPR framework to explore ways of delivering messaging that is compliant and that also reaches every possible prospect pool. Direct mail is playing a major role.
Initiatives such as Royal Mail's Partially Addressed Mail are helping businesses to reach prospects and boost acquisition strategies. Partially Addressed Mail is a GDPR compliant prospecting tool that allows targeted mail marketing without the use of personal data. Replacements such as 'Occupier' or 'Valued customer' are used instead of the recipient's name. This service overcomes the potential problem of a reduced prospect pool due to GDPR restrictions, and Royal Mail estimates that businesses can reach up to 30% more households in one mailing than with a personalised cold-list mailing.
Of course, reaching prospects is one thing, influencing them is quite another. Messages will still need to be on point, and design will need to carry enough impact to cut through the digital noise. Again, research points to the advantages that mail carries over email. Mail is tangible and real. Receiving post, handling it and opening it requires more interaction and engagement than clicking a button to view email. In a Royal Mail study, 60% of respondents said the very physical nature of mail made it easier for them to recall messaging at a later date. In a separate study by the DMA, research found that 27% of direct mail is still 'live' within the household after 28 days. Clearly, by remaining in household circulation, messages have the opportunity to be read and read again.
There is also a perception that mail only works with a specific audience, namely older recipients. Millennials, so the argument goes, have been raised on digital and have little time for other means of communication. This is far from the truth. Millennials respond warmly to the tangible impact of mail. Indeed, this audience appreciates the care and craft that goes into mail. A Gallup study reports that 95% of 18-29-year-olds have a positive response to receiving personal cards and letters. Clever direct mail marketing taps into this emotional pull.
This is not to say that direct mail should be used in isolation. Marketing should not be a case of either digital or mail. Those businesses gaining the most marketing attention are using a mix of techniques to reinforce brand qualities and specific messaging. Neurological studies conducted by Royal Mail prove that mail primes other media. In other words, messages delivered digitally are more recognisable if customers and prospects have first been contacted via the mail.
Ultimately, in an age where digital communication has become second nature, direct mail not only persists, it is starting to generate genuine excitement once again. Businesses dismissing the technique as old-hat are themselves in danger of looking rather out of touch. Used creatively and compliantly, direct mail is presenting a stand-out alternative to the digital deluge. Consumers are responding with trust, brand loyalty and share of wallet.
Hear more from the DMA
Royal Mail's efforts to promote direct mail during the Covid-19 lockdown have been branded "too little, too late" with the postal giant witnessing a "disastrous" 63% crash in advertising mail volumes.
The grim picture, revealed in Royal Mail's end of year results, shows addressed letter volumes slumped yet again, down 8%, but this was in line with guidance provided in its Q3 trading update. However, total letter revenue was only down 0.9%, which the company only has the General Election and European Parliament Election to thank for.
Addressed letter revenue was also down 23% (excluding elections); with volumes (excluding elections) down 33%. Direct mail volumes crashed 63% due to the coronavirus. Business mail volumes proved more resilient, down 19%, but many of these mailings are a legal requirement from sectors such as financial services.
Even parcels have taken a hit. While other delivery firms, most notably DPD, have seen a surge in business due to the increased demand in online shopping, Royal Mail saw parcel volumes increase by just 2%.
Royal Mail Direct Mail Marketing Services
The company blamed this on the threat of industrial action in Q3 and impact of Covid-19 on its international import volumes during Q4. Parcel revenue inched up 4.6%, due to targeted pricing actions.
Overall, in the year to March 31 group sales were up £259m to £10.84bn but operating profit slumped by £124m to £217m. The upshot is that Royal Mail is to axe 2,000 management jobs, with marketing, IT and finance roles in the firing line.
One industry source said: "You have to ask why Royal Mail was so slow out of the blocks. It waited until May – nearly two months into lockdown – to launch any sort of direct mail incentive package and even these are only available to certain sectors.
"It was all too little, too late. At a time when the whole of the UK was stuck indoors, Royal Mail sat on its hands. These results are not only disastrous for Royal Mail, they effect the whole direct mail industry, too."
Royal Mail Group interim executive chair Keith Williams admitted that the UK business has not adapted quickly enough to the changes in the marketplace of more parcels and fewer letters.
He added: "Covid-19 has accelerated those trends, presenting additional challenges. We are implementing a three-step plan. Firstly, we're taking immediate action on costs, which will result in a £130m saving in people costs next year and flat non-people costs, along with a reduction of around £300m in capex across the group over the next two years, to address the immediate impact of Covid-19. Regrettably, we are also proposing a management restructure impacting around 2,000 roles.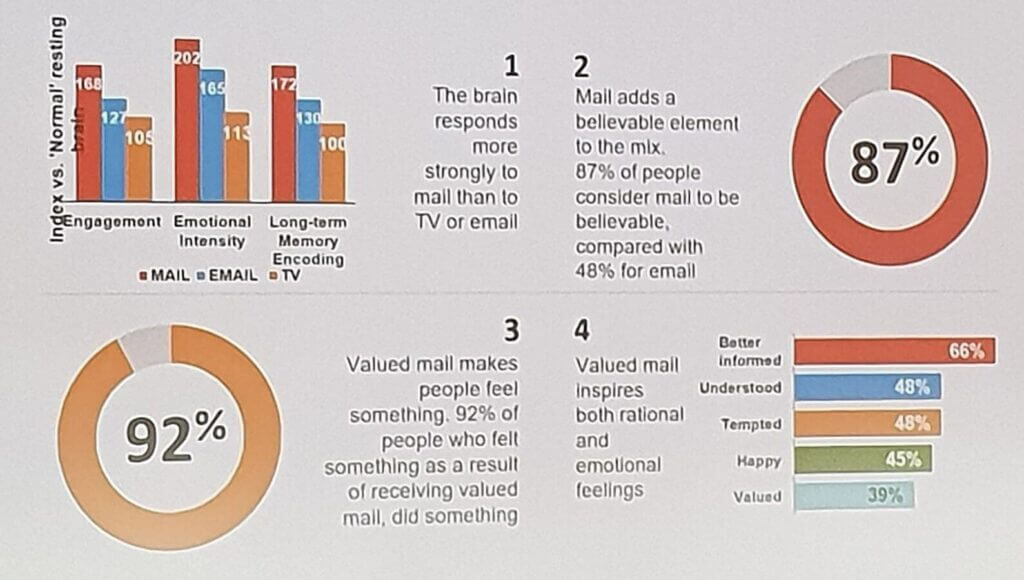 "We are committed to conducting the upcoming consultation process carefully and sensitively. We will work closely with our managers and their representatives during this difficult period, including supporting them as they transition into the next stage in their careers.
"Secondly, we're accelerating the pace of operational change in the UK to address long-standing challenges and be sustainable for the long term. Thirdly, we're working with all stakeholders to underpin the USO to ensure it reflects user needs and is modern, contemporary and sustainable. We want to ensure Royal Mail remains a key part of the UK economy, a good employer, and the nation's delivery partner of choice."
Related stories
DPD hires 6,000 and invests £200m for online boom
Royal Mail offers brands new door-to-door incentives
Hard-hit companies offered major direct mail incentive
Coronavirus-themed ads strike a chord with consumers
Crisis-hit consumers more willing to try out new brands
'Seismic' shift to push online grocery market up 33%
Online stampede is a mixed shopping bag for brands