Apple has created fairly reliable devices, but sometimes they fail. Sometimes it's the fault of the users themselves, but there are often cases when the problem occurs due to an iOS error. For example, after updating a new version of the iPhone, it shows a black screen or does not show the cellular network, Wi-Fi, etc. Of course, such a breakdown can also be caused by mechanical damage, moisture ingress, and many other factors. But before you go to the service center with this, you can try to solve the problem yourself with the help special application.
If you get this error, try the dedicated app- Reiboot.
ReiBoot (Mac or Win) is the World No.1 iPhone repair tool that offers you a free way to fix iPhone stuck in recovery mode (support.apple.com/iphone/restore error) with only 1 click, super easy. Provide More Beyond Your Imagination. Tenorshare ReiBoot is an iOS repair and recovery software. You can use it on iPhones, iPads, and other devices that use iOS as the operating system. The tool allows entering and exiting the recovery mode in a single click, as well as performing Standard and Deep system repairs.
iPhone won't boot
How do we usually solve most problems with iPhone or other Apple devices? That's right, reboot. This is the first thing you should try to do. But it is not always possible to restart your iPhone or iPad. If your device is stuck at the boot screen, requires a connection to iTunes, or behaves in a completely incomprehensible way, you can try to restore the software using iTunes. This is simple enough but not always effective. iTunes may give an error while flashing. Also, Apple has already discontinued support for this application.
Developers ReiBoot promises to fix a fairly large number of possible problems with iOS devices. Their program works with iPhone, iPad, iPod touch, and even Apple TV. You need to plug in your device and choose which function you want.
How to put iPhone into recovery mode?
The easiest thing to do, and this feature is available for free, is to log into iPhone recovery mode. After that, it will already be possible to independently download the firmware and try to solve the problem (by the way, here, you can also exit the recovery mode in one click).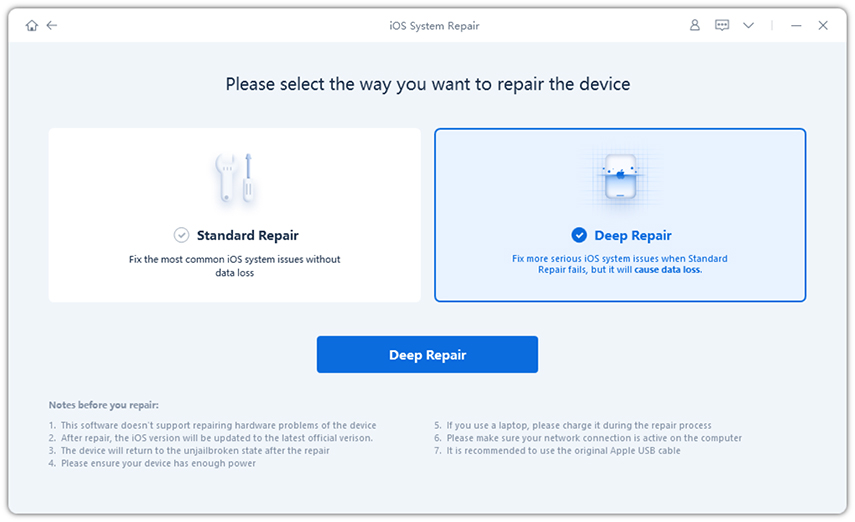 This is a handy feature. Few know how to enter iPhone into DFU or Recovery.
How to fix the problem with iOS?
But it's much easier to go to the troubleshooting menu, where the application will download the firmware itself and do everything as it was. You need to select your device from the list, and ReiBoot will offer solutions to the problem.
The advantage of this solution is that you have the freedom to choose exactly how to fix the problem. To get started, we always recommend trying "Standard Repair" – in this case, all data on your iPhone, iPad, or other Apple device will be saved.
It's better to always try the easiest way first without deleting the data.
If this does not help, you can already choose an advanced repair (deep repair) and delete all information on the device. However, if you have a copy of iCloud, you can restore it without any problems.
After selecting "repair," the application will download the latest software version for your device and start the process of solving the problem.
The application will offer to download the current version of iOS.
Then the troubleshooting will start.
ReiBoot will restore the functionality of devices stuck in recovery mode and DFU, stuck on the boot screen, rebooting devices. Devices are stuck on the lock screen, devices invisible to iTunes, and devices constantly think that accessories are connected to them. The right thing, really.
How to reset iPhone to factory settings?
Useful additions – the ability to reset iPhone to factory settings or restore default settings without deleting data. The same can be done in the iPhone's settings, but if you do not have access to them (for example, the screen is broken or the phone does not load beyond the apple), this function will come in handy.
If there is no access to iPhone tinctures, this is direct salvation. And when selling, it will come in handy.
Of course, this application does not do anything supernatural. Advanced users, most likely, can do all this without the help of third-party applications. But for many (especially the older generation), it is much easier to press one button and solve all the problems with the device. It is often tough to explain to someone they need to download the firmware, reset it, or enter it into DFU.
ReiBoot has free and paid versions. The paid version allows you to solve more problems and errors when flashing through iTunes. Also, the paid version includes tools to optimize the work of iOS. You can try it yourself. The program works with all current versions of iOS, including iOS 14.3. Versions available for Mac and Windows. Remember that some problems may be related to hardware malfunction of your device, and they cannot be solved using any programs.
ReiBoot is a device recovery application that can be used to recover Apple iPhone and iPad devices and enter into recovery mode without convoluted button presses.
The main interface of ReiBoot includes just a few buttons, requiring the iPhone or iPad to be connected to the PC with a lightning USB cable. Clicking 'Enter Recovery Mode' will enable the program to perform its magic. The device name and model will be displayed in the main interface once a successful connection is made.
As a standalone application, ReiBoot does not require iTunes to be installed in order to interface with an iPhone. The program provides you the option to boot the iOS device into recovery mode and then repair the operating system. It supports recovery mode, changing the Apple logo and a number of other solutions to common problems experienced with iOS devices.
ReiBoot can be used to solve various problems, such as the inability to boot the device, times when it's stuck on 'verifying update', not able to turn the phone on and charging issues.
The application can also be used in instances when the home button is broken or the Apple product has entered into a reboot loop.
All in all, ReiBoot is a very helpful software application for anybody who has their iOS device experiencing issues, including a bricked iPhone.
Features and highlights
Enter iPhone Recovery Mode easily even Home button is broken
Save iPhone stuck in Recovery Mode with only 1-click
Enter and exit Recovery Mode safely without any data loss
Support the latest iPhone 6 Plus, iPhone 6, iPhone 5s/5c, iPad Air 2, ipad Air, iPad mini 3, iPad mini 2, iOS 7.1, iOS 8 and iOS 8.1
Totally free and easy to use
ReiBoot 8.0.6 on 32-bit and 64-bit PCs
Reiboot Pro Deep Repair
This download is licensed as freeware for the Windows (32-bit and 64-bit) operating system on a laptop or desktop PC from iphone tools without restrictions. ReiBoot 8.0.6 is available to all software users as a free download for Windows.
Reiboot Deep Repair Conditioner
Filed under:
Reiboot Deep Repair Shampoo
ReiBoot Download
Freeware iPhone Tools
Major release: ReiBoot 8.0
iPhone Recovery Software