Wed, 02.07.1883
The ragtime revival brought Blake out of his retirement in his eighties. In 1969 he recorded the album 'The 86 Years of Eubie Blake' and, in 1972, formed his own record company.
Eubie Blake, Ragtime/Show-Tune Pianist born
Eubie Blake was one of the longest lasting pioneers of ragtime, and lived to nearly a week past his 96th birthday, although not his 100th as had long been believed. There is much in the way of legal demographic evidence to show that Blake was actually born in 1887, not 1883 as was commonly written throughout the second half of the 20th century.
Having outlived all his contemporaries, Eubie Blake became both a symbol, survivor and ambassador for ragtime and African-American musical theatre, his pianistic skills amazingly intact. In 1978, a tiny showcase of songs from Shuffle Along expanded into a full-scale Broadway revue bearing his name Eubie!, running for a year plus a national tour.
Eubie Blake wrote the "Charleston Rag" in 1899, which means that he has had plenty of time to practice it prior to his solo concert at Alice Tully Hall at 8 P.M.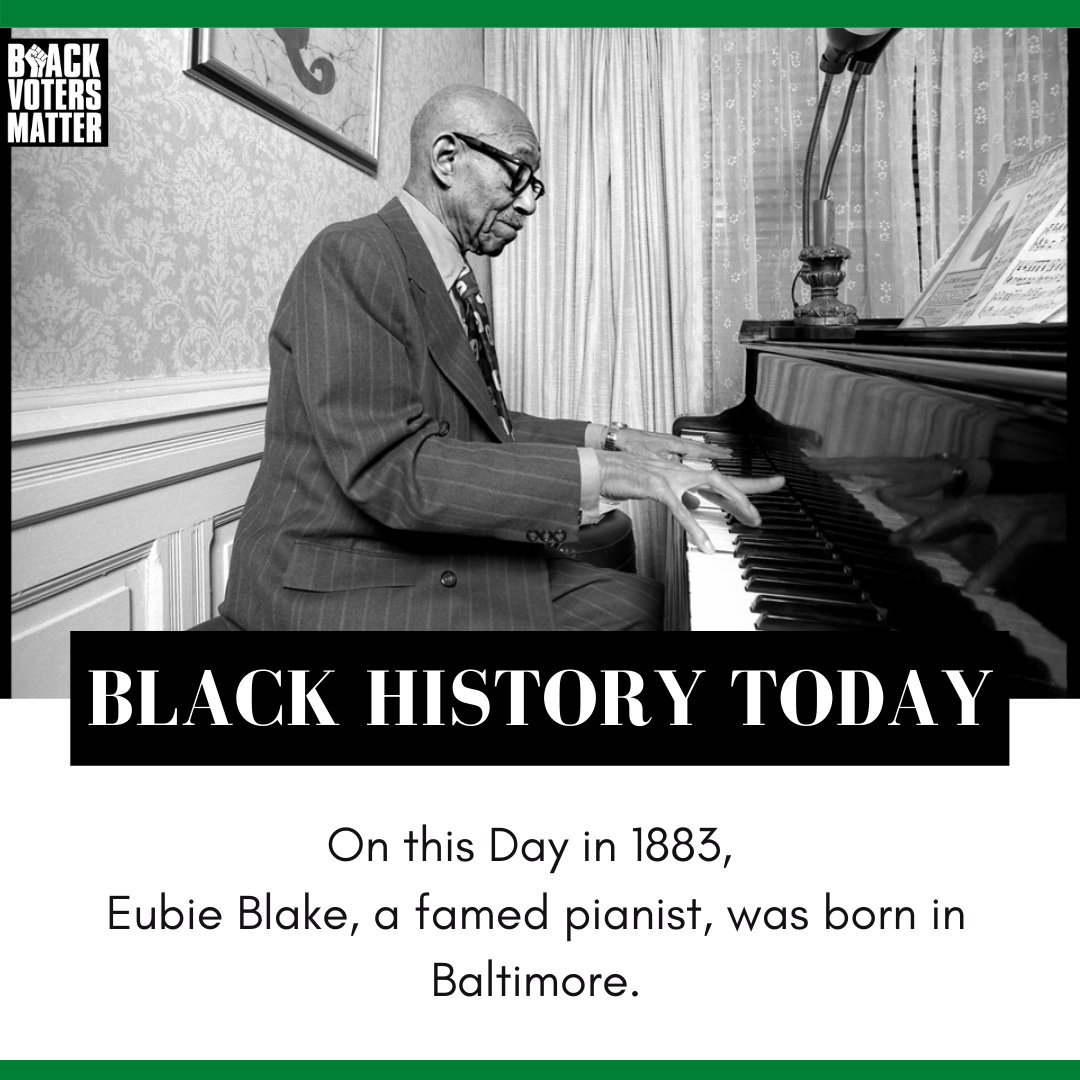 Eubie Blake
*On this date Eubie Blake was born in 1883. He was a Black pianist and composer of ragtime music and show tunes.
From Baltimore, Maryland, Blake first exhibited his natural aptitude for the keyboard on a home pump organ at age six. As a teenager, he played piano in cafés and brothels, and in 1899 he played his first rag, Sounds of Africa, published in 1919 as the Charleston Rag. His connecting with the lyricist and vocalist Noble Sissle in 1915 resulted in a long association between the two entertainers. They were among the first Black performers to appear on stage without minstrel makeup.
Their show Shuffle Along 1921 was among the first musicals to be written, produced, and directed by Blacks. It featured Blake's best-remembered song, I'm Just Wild About Harry, and introduced three entertainers whose later careers would be notable: Paul Robeson, Florence Mills, and Josephine Baker. After Blake and Sissle broke up in 1925, he teamed with lyricist Andy Razaf to write the score to Blackbirds of 1930, which contained the popular song Memories of You. Blake continued his career as an entertainer, making both piano rolls, records, and appearing in concerts.
His sophisticated, witty elegance gave him a popularity that continued throughout his career. He retired at 63 to study music composition, transcribe his songs, and compose new ones yet came out of retirement in 1969 to record an album. From there he resumed performing, giving his last public concert in June 1982. He achieved his greatest fame when a musical based on his songs, Eubie, opened on Broadway (1978). In 1981 Blake was awarded the Medal of Freedom.
Eubie Blake died Feb. 12, 1983, in Brooklyn, N.Y.
Ragtime Eubie Blake Net Worth
Reference:
A Century of Jazz by Roy Carr
Da Capo Press, New York
Copyright 1997
ISBN 0-306-80778-5