Anwar Yakkiparamban·Published · Updated
PC hardware Monitoring is essential for having a healthy computer, to know the peaks of computer ability, and will prevent it from overloading and overheating PC. Hardware monitor tools will show you real-time statistics of your CPU, GPU, RAM, Hard Drives, Network Adapter, Motherboard, and other hardware. You can also view hardware information and specifications.
Also Read: 10 Best Free Disk Wiping Tools you should know
Dec 27, 2020 The Open Hardware Monitor supports most hardware monitoring chips found on todays mainboards. The CPU temperature can be monitored by reading the core temperature sensors of Intel and AMD processors. The sensors of ATI and Nvidia video cards as well as SMART hard drive temperature can be displayed. Hardware monitors are essential for overclockers, and just overall a super handy resource even for regular PC users/gamers. Temps, clock speeds, useage, and framerates are all things that are very nice to be able to watch while you have a game fullscreen. However, the options that are currently available 'commercially' quite plainly suck.
Best Hardware Monitoring Tools
In this article, we've listed 10 best hardware monitoring tools you should know. These programs show you the detailed statistics including CPU temperature, load, clock frequency, RAM usage, fan speed, hard drive usage, hard drive temperature, network activity, etc. Also, it will prevent us from overloading, and overheating it.
Each tool has its own approach to solving the problem of trying to help monitor your system. These PC hardware monitoring software can keep track of overall system performance.
01. Open Hardware Monitor
The Open Hardware Monitor is a free open source hardware monitoring tool that monitors temperature sensors, fan speeds, voltages, load and clock speeds of a computer. It also monitors CPU temperature by reading the core temperature sensors of Intel and AMD processors. Open Hardware Monitor is a portable program and to get all the available readings to make sure to run the program as Administrator. This software runs on Microsoft Windows and Linux operating systems without installation.
Download Open Hardware Monitor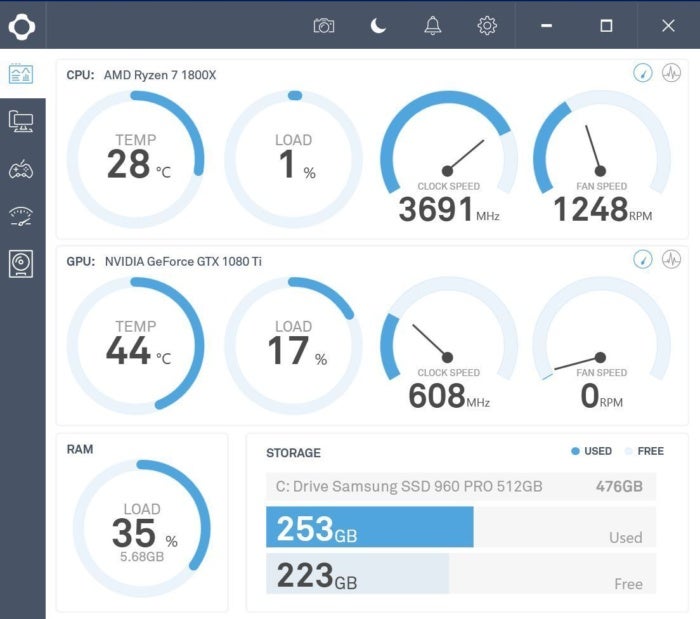 02. HWMonitor
HWMonitor is a great tool for displaying the majority of your systems temperatures, fan speeds, and voltages. This software is developed by CPUID. like Open hardware monitor, HWMonitor lists all results on a single window, divided into layouts.
HWMonitor can read modern CPUs thermal sensors, as well as hard drives temperature via S.M.A.R.T, and video card GPU temperature. There is a setup installer or separate 32-bit / 64-bit portable versions available.
Download HW Monitor
03. CPU-Z
CPU-Z shows you the information such as processor name and vendor, core stepping and process, processor package, clock multiplier, partial overclock detection, internal and external clocks, and processor features including supported instructions sets. It allows you to review all kinds of detailed data about various areas of your computer.
This hardware monitoring tool allows you to save reports at any time in either TXT or HTML formats. It also detects the processor's core voltage, L2 bus width.
Download CPU-Z
04. GPU-Z
GPU-Z is a lightweight system utility designed to provide vital information about your video card and graphics processor. It supports NVIDIA, AMD, ATI, and Intel graphics devices. It is a portable application for Microsoft Windows. GPU-Z displays overclock, default clocks and 3D clocks.
This tool Includes a GPU load test to verify the PCI-Express lane configuration. Also, you can create a backup of graphics card BIOS.
Download GPU-Z
05. Windows Task Manager
Windows Task Manager is a hardware monitoring tool embedded with windows operating system which keeps track of all running processes on the computer. It shows you how much each process uses CPU and memory. Windows Task Manager allows you to close any running process to free up some memory. But, it doesn't measure temperatures.
To open the Task Manager, press CTRL+Shift+ESC on your keyboard.
06. CAM
CAM hardware monitoring tool is easy-to-use and comprehensive, providing you the essential data you need to keep your PC running optimally. It shows you the detailed statistics and specifications of your computer's hardware. It monitors CPU, RAM, memory, and motherboard statistics, and GPU. CAM alerts you with an instant warning when components aren't functioning properly. It reviews your PC's historical data to identify abnormal activity.
Download CAM
07. Speccy
Speccy is an advanced system information tool for your PC which scans and displays the hardware available inside your computer along with their specifications including CPU, Motherboard, RAM, Graphics Cards, Hard Disks, Optical Drives, and Audio support. The program also adds the temperatures of your different components. With Speccy, you can save your scan results directly as a snapshot, XML or text file for easy sharing.
Speccy shows you all the information that you need on every piece of hardware installed on your system.
Download Speccy
Best Pc Hardware Temp Monitor
08. Speed Fan
SpeedFan hardware monitoring tool lets you monitor voltages, fan speeds, and temperatures in computers. It can access SMART information for hard disks. SpeedFan fully supports SCSI disks and can even change the FSB on some hardware. However, it requires some time to get set up. This program can find almost any hardware monitor chip connected to the 2-wire SMBus.
Download Speed Fan
09. Core Temp
Core Temp monitoring tool measure the temperature of core values from CPU. However, There are also some useful options for preventing overheating of your computer. You can set up alert notification, or program your computer to shut down or to sleep when the temperature is high. Core Temp is also available on google play store. However, this program doesn't support older processors like Pentium 4 or Athlon XP.
Be careful if using the installer version as it contains InstallQ adware.
Download Core Temp
10. System Information Viewer
How To Monitor Hardware Temperature
System Information Viewer is a general Windows utility for displaying lots of useful Windows Network, and hardware information CPU, PCI, PCMCIA, USB SMBus, SPD, ACPI methods, Machine, Hardware Sensors, Networked computers, Operating System information and more. On the main interface of SIV, real-time RAM usage, RAM latency, Paging File usage, and File Cache usage are displayed.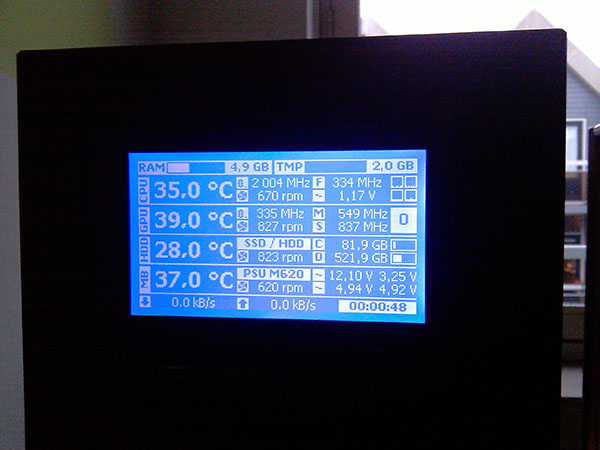 Download System Information Viewer
Pc Hardware Temp Monitor
This does not mean exhaustive list, and there are many other great products out there that offer similar functionality to some of the applications that we have looked at today.