New in-app quizzes allow you to test your skills at predicting the top podcasts, artists, and even top. Check out the new Wrapped voice commands. Did you know you can play Spotify using your voice? Spotify is a digital music service that gives you access to millions of songs. We and our partners use cookies to personalize your experience, to show you ads based on your interests, and for measurement and analytics purposes.
At the end of every year Spotify gives users "Wrapped", which summarizes the music and podcasts you listened to that year. I think Spotify Wrapped is a really smart marketing tactic, as it gives users sharable content which helps promote Spotify on social media (and now on my blog).
How To Find Your Spotify Wrapped 2020
If you're looking for your Spotify Wrapped for 2020, this video explains how to find your top artists, songs, and podcasts of the year.
What Did I Listen to In 2020?
I mainly use Spotify while I'm driving, and in 2020 I was mostly just driving to the gym. So my music tastes are likely tilted more towards rap, hip-hop and EDM for that reason.
I also rarely listen to podcasts on Spotify, as I far prefer the experience of listening on Apple Podcasts. However, since the Joe Rogan Experience moved exclusively to Spotify, I have spent more time listening on Spotify.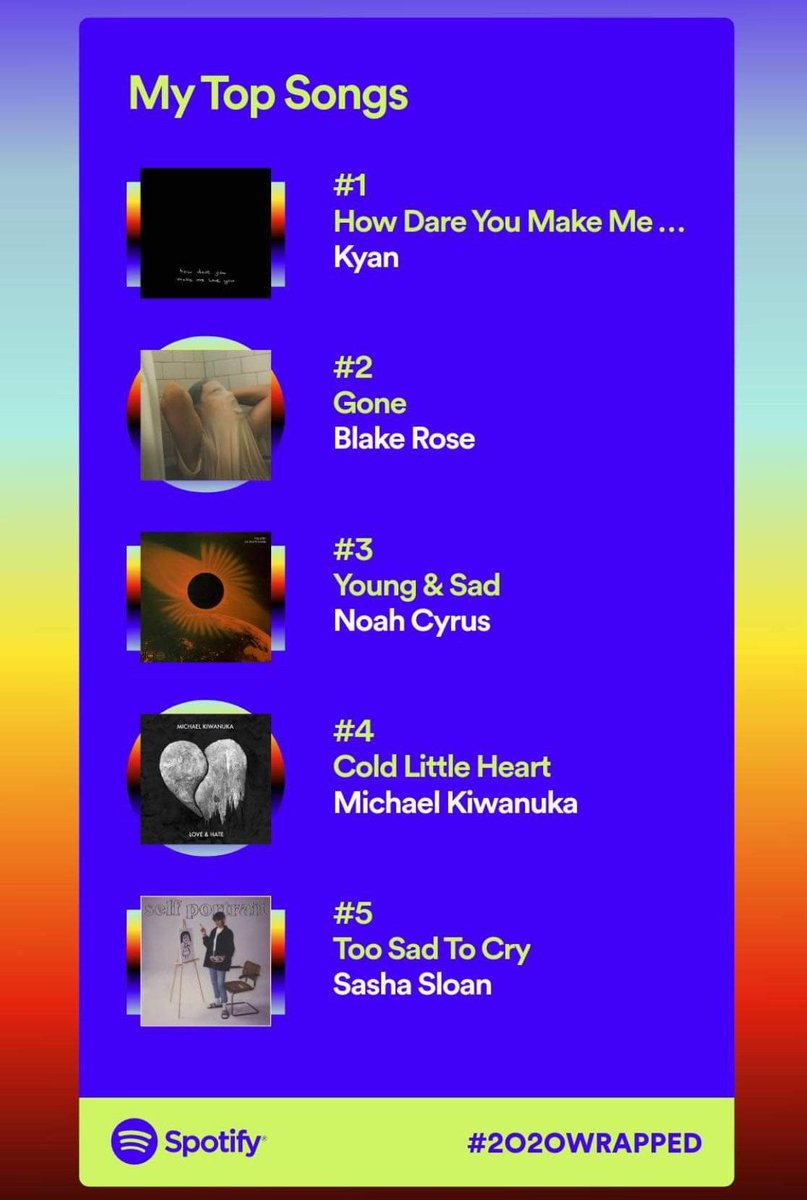 Also, sometimes my Spotify Wrapped includes some songs that shock me. While I do know I listened to Vacation by Dirty Heads about 500 times in 2020, the appearance of Intentions by Justin Bieber in my top spot was unexpected. I guess that song is even more catchy than I thought.
My Top Artists in 2020
• G-Eazy
• Dirty Heads
• 311
• Future
• Drake
My tops artists didn't really hold any surprises. G-Eazy, Future and Drake are some of my favorites for listening to while working out and going on runs.
I also listen to quite a bit of "reggae-rock" music so Dirty Heads and 311 are likely to show up in my top artists.
Some artists I would have expected to show up in my top artists are Gary Clark Jr., The Beach Boys, Johnny Cash, and Kanye West.
My Tops Songs of 2020
My Top Spotify Songs
1. Intentions (feat. Quavo) – Justin Bieber, Quavo
2. Life Is Good (feat. Drake) – Future, Drake
3. Moana – G-Eazy, Jack Harlow
4. WHATS POPPIN (feat DaBaby, Tory Lanez & Lil Wayne) – Jack Harlow
5. Vacation – Dirty Heads
No surprises here. My top songs (mostly) consist of my top artists, with the exception of Justin Bieber.
What were you listening to in 2020?
2 December 2020, 10:12
Spotify has created a brand new website that reveals your most played songs and artists.
There's now a Spotify site which tells you your Top Artists and Top Songs of all time.
Spotify loves to give users extensive information about their listening habits. In 2017, the popular music streaming service launched its annual Spotify Wrapped feature which lets people know which songs and artists they've streamed most that year.
2020 Spotify Wrap
FIND SPOTIFY WRAPPED 2020 HERE
More recently, Spotify has been telling users if they're in the Top 1% of Fans of an artist based on how often they listen to them. If you listen to an artist 99% more than other people on Spotify, you make the official Top 1% of Fans.
The Spotify stats don't stop there though. A new site that gives you even more info has gone viral on social media.
How do I find my Top Artists and Top Songs on Spotify?
Chances are if you've been anywhere near Twitter or Instagram recently, you've seen friends post about their Top Artists and Top Tracks on Spotify. People have been sharing lists of their Top 50 artists and songs from the past four weeks, six months and of all time. To find out yours, all you have to do is visit statsforspotify.com and log in with your Spotify account.
The website gives you an option to see your Top Artists or Top Tracks. It then unveils personal lists for your most popular artists and songs over the last four weeks, six months and of all time. Essentially, the site closely analyses your listening habits and data to give you accurate readings of what artists and songs you really love most.
The website also shows you your most recently played songs too with exactly when you last played them.
Amazing, right?
READ MORE: How to find Spotify's 'Top 1% of Fans' feature
Who are your Top Artists and Top Songs on Spotify?