Free Elementor header templates are clean header designs, and It builds & designed using Elementor Page builder. There are available in JSON format. So, you can easily import the JSON file into the library. It created by Ch Mudassar Shakeel. How to install Elementor template with json demo file? Elementor Page Builder How to import the json Elementor file into Elementor Page Builder with all the demo content? Step By Step instructions with screenshot overview. Step 1: Download the free OnceClick Elementor Template. It will come in zip file. Unzip it and inside you will find the json file which is required. Step 2: Under Elementor – Templates – Import Templates. Today I would like to share a free Elementor section template. These templates are a great way to quickly put together a page and can be customized to fit your needs by replacing all content such as images, icons, headings, and text. It is a full-width section, so make sure to build your page accordingly. Start your collection of templates today!
The market for sharing and selling free and premium Elementor templates is growing. Just as there are WordPress themes that can be downloaded or purchased, there are third-party Elementor layout templates that you can acquire to use in your page layouts. It's not completely obvious, though, how to import Elementor layout templates, so here is a quick guide to doing so.
Import The JSON File
In your site's admin menu, go to Elementor > My Library > Import Template.
Click the Choose File button, locate the .json file that you downloaded from a third party, and click Import Now.
You will find your new Elementor template listed in your Elementor Library.
Some templates include additional files, such as CSS and XML files that give your page additional styles or functionality. If the template you download includes such files, import them using the following instructions. (Always read any instructions that may accompany your download, as they will be specific to that template. The following instructions are general guidelines that will cover most situations).
Import CSS And XML Files
Copy any included CSS into Customizer > Additional CSS or into your child theme's style sheet or into any custom CSS plugin you might be using.
If your template includes any XML files, import them via Tools > Import > WordPress > Run Importer. Click the Choose File button, locate the .xml file on your computer, and click the "Upload file and import" button.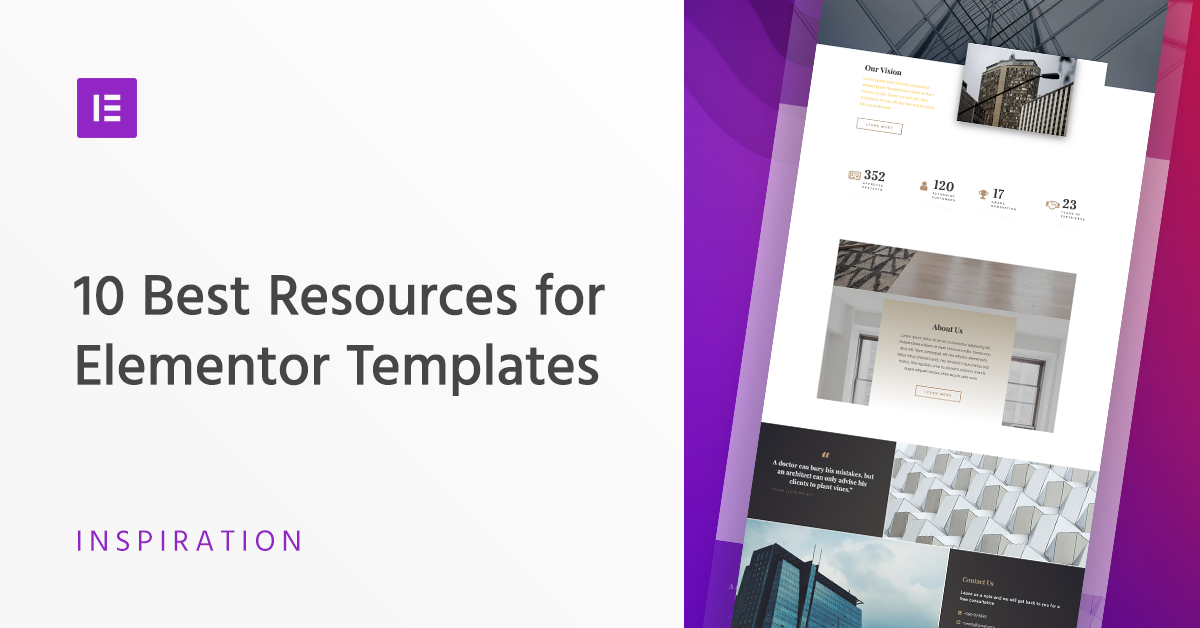 As you can see from the screenshot above, I've imported several third-party files, including a restaurant and a hotel layout from the Elegant Marketplace, and four team section layouts from Bidyasagar Salam.
Note: Just as most themes don't include all the images you see in the demos, the same often applies to Elementor layout templates that you download or purchase. Most templates will come with a generic, stock "Your Photo Here" type of image, and it will be up to you to replace those with your own images.
Download Pre-made elementor templates and create your breathtaking website in no-time.
No Coding Skills Required – No need to learn coding. Using these templates anyone can design their website professionally.

Pre-built Elementor Layouts – All designs are pre-built, Just download it and replace it with your content. No pro version is needed.
Easy To Implement – You can easily import these templates by just following the process. No technical skills are required.
Elementor Templates for Webmasters
You might have seen custom homepage designed websites of many professional webmasters. Similarly, you can create one for your website too. I have solely created this section for the webmasters. Just import the below-given template and change the content. Boom your custom homepage is ready without any additional efforts.
Elementor Free Templates Library (Fast & Light-weight, Easy to import)
1. Logo Designing Template
2. Content Writing Agency Template
3. Web Development Agency Template
4. Caffe Template
5. SEO Consulting Template
6. Blogging Template
7. Web Developer Template
8. Fitness Blogging Template
Elementor Json Templates Download
9 Yoga Template
The design is purely mobile-friendly, you don't have to perform anything further. In addition, you can customize the color and section accordingly.
In case you are a novice in WordPress or Elementor and you wish to use the template offered above, but you're still confused about how to implement it. Feel free to contact me, I'll do this work for you without any fee.
Also download:Free Elementor blocks and design your blog post like a pro!
Note:Portfolio and blog posts section are built using Essential addons, it's also free. download here.
Frequently asked questions
Are these templates free of cost?
Elementor-template Json-datei
Yes, you can download the elementor templates free of cost.
Are these templates safe?
Yes, these templates are completly safe. Elementor plugin is flexible, you can export your design here and import it on the different websites using the .json file.
Do I have to purchase Elementor pro for using these blocks and templates?
No, but there are certain elements that are only available in Elementor pro like newsletter, blog post, table of content, etc.
Can I use these blocks on multiple websites?
Yes, you can use it in as many websites as you want.