Cpu And Motherboard Temperature Monitor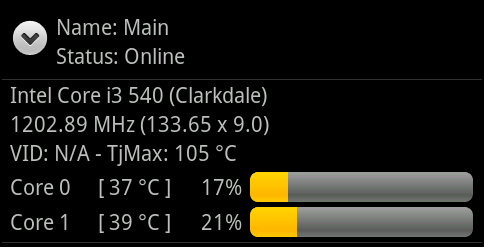 This page is designed to help you obtain your CPU and motherboard temperatures, and hopefully keep them current and visible. If you aren't using unRAID v6 with the Dynamix System Temp plugin, then skip down to the 'older versions' section.

Setting up sensing for v6
This section is only for unRAID v6 with the Dynamix System Temp plugin installed. These instructions are lifted directly from the author's words here.
Preparation

Install the perl package, easiest done by installing the NerdPack plugin, then in the plugin enabling perl to install. Perl is only needed by the script 'sensors-detect', which will be run in the background by the Detect function of Step 2. Once you have completed System Temp setup, perl is no longer needed and can be disabled, uninstalled.

Detection

Press the <Detect> button to search and automatically fill in the required drivers, or alternatively - if you know the name of the driver(s) - you can fill them in manually.

Saving and activation

Press the <Save> button to save and activate (load) the driver(s). This will create the file /config/plugins/dynamix.system.temp/drivers.conf on your flash device.

Sensor assignment and display

Use the dropdown menus under sensors to assign the appropriate sensor for CPU and motherboard readings. You may need to consult the user guide of your motherboard to find out which sensor needs to be selected here. Once a sensor selection is done, the corresponding item will be displayed at the right side of the footer. Click the <Apply> button to confirm your selection. This will create the file /config/plugins/dynamix.system.temp/sensors.conf on your flash device.

You are done! You no longer need perl installed, and can remove it.
There is no simple answer to the question whether or not PRTG can monitor CPU temperature. It all depends on your hardware. For example, if your motherboard provides CPU temperature information via SNMP, you can set up a sensor to monitor temperatures. This means that PRTG can be used as a CPU temperature monitor for Windows. To make it real easy for our users, the best CPU temp monitor will allow you to set your CPU speed, it will show the CPU's current internal voltage, it will monitor the temperature on all cores, will display the GPU temp, will allow you to customize the CPU's min/max speed, will allow you to automatically shut down the system in case of overheating, and, finally, will offer a portable solution just in case. Speccy is a free PC monitoring program from the developers of CCleaner. It displays detailed system info related to the CPU, RAM, motherboard, operating system, graphics card, storage disks, and other hardware. You can also view the temperature for key components including the CPU and motherboard. Create your sensors.conf file. This will contain the sensor device (s) and labels (optional) for the temperatures you wish to monitor. For Dynamix and Simple Features, it must establish the 2 labels 'MB Temp' and 'CPU Temp'. To be used by Dynamix, save this file to your flash drive, in the path /boot/config/plugins/dynamix. If you want to monitor the CPU temperature you will have to use an external monitoring display unit and a probe and back then most were recommending a Thermatake unit. I have a later Dimension E510 model and it too does not have CPU temperature monitoring capability. I am not a Dell Employee Dell forum member since 2002.
Last but not least: see also the online Help for System Temp!
Note: to unassign or remove a sensor just unselect it from the dropdown menu. This will also allow you to make new assignments (for example when the wrong sensor was chosen).
Setting up sensing for older versions
To pass system sensor data (such as temps, voltages, and fan speeds) to 3rd-party addons such as Dynamix (using its System Temp plugin) or SimpleFeatures, you need to load the required drivers and setup your sensor configuration file sensors.conf.
The following steps should work for most motherboards. (tested on a SuperMicro C2SEE/C2SEA)
Step 1: Open a console
You can either use the command console on the UnRAID server itself (if you have a keyboard and monitor attached), or you can login from another computer and use SSH or Telnet. On Windows, the PuTTY client for SSH and Telnet is preferred, because it allows you to use cut and paste, to save generated lines for your own sensors configuration file.

Step 2: Run sensors
At the command prompt, run sensors. Even without loading drivers, you will probably see a sensor or two, with temps and other info. The output should appear similar to:
Step 3: Note the devices
Make note of the sensor device(s). In the above example, they are w83627dhg-isa-0290 and coretemp-isa-0000. (Note: for coretemp you should run sensors -u coretemp-isa-0000 again to see the actual temperature labels. If they are called something like temp1_input, just use temp1 as a label for your sensors.conf - see below)

Step 4: Note the sensors
Make note of the specific sensors you wish to display. In the above example, temp1 is the motherboard and temp2 is the CPU.

Step 5: Create sensors.conf
Create your sensors.conf file. This will contain the sensor device(s) and labels (optional) for the temperatures you wish to monitor. For Dynamix and Simple Features, it must establish the 2 labels 'MB Temp' and 'CPU Temp'.
To be used by Dynamix, save this file to your flash drive, in the path /boot/config/plugins/dynamix. In Windows, this path would be something like towerflashconfigpluginsdynamix.
If not for Dynamix, save this file into a persistent location on the flash drive, e.g. /boot/config or /boot/custom. Later, you will probably need a copy command in your 'go' file, to copy it to its correct location in the UnRAID system.
In the sample sensors.conf file below, I'm only using data from the 2nd sensor device.
Step 6: Prepare sensors-detect
The sensors-detect tool is a long script that should detect all of your sensors, and help you get the right sensor driver names. A copy is included with UnRAID, but it's not the latest, and if you have a new motherboard (recent manufacture), you will want to use the latest version, as it is occasionally updated with the newest drivers and sensors. Go to the lm-sensors Devices page, and look for the link 'latest version of sensors-detect', in the 3rd paragraph currently.The lm-sensors site is down currently! Download and copy it to your flash drive. To run it (assuming it's in the root folder of the flash), you will need to either change to the flash drive (cd /boot), or run the command as /boot/sensors-detect.
The sensors-detect tool requires Perl to be installed, at least temporarily.

If it isn't already installed, you will need to download an appropriate version for your UnRAID release:

For UnRAID v4 series, get it from here
For UnRAID v5 series, get it from hereMay need updated/corrected perl links.
For UnRAID v6 series, get it from here

Copy it to the packages folder on your flash drive, creating that folder if it does not already exist (md /boot/packages).
Then use installpkg and the perl package name to install it (eg. installpkg /boot/packages/perl-5.18.1-x86_64-1.txz).
Or you can use UnMENU to download and install Perl. It does not need to be set for re-install.
Or for Dynamix, you can modify the Dynamix System Temp plugin itself (currently for v5 it's /boot/config/plugins/dynamix.system.temp-2.1.0-noarch-bergware.plg), by locating the line ending with '# perl scripting' and replacing 'no-install' with 'do-install'. Then re-install the plugin or reboot. Change it back to 'no-install' when you are done with this whole procedure.
Step 7: Run sensors-detect
Run sensors-detect. Enter [YES] for the various scans. Enter [NO] to automatically generate the config file (last prompt). The output should be similar to:
Step 8: Note the drivers
Make note of the driver name(s) listed in the summary. In the above example, they are w83627ehf and coretemp.

Step 9: Add modprobes to go
Edit your 'go' file and add in the modprobe command for each sensor driver that is required.
Step 10: Add the copy instruction to go
If you are configuring for Dynamix, this step is not needed, so skip to Step 11. Otherwise, add another line in your 'go' file to copy your persistent sensors.conf file (from where you created/saved it in Step 5) into the appropriate location on each boot.
Step 11: Reboot and check
Reboot to load up the changes, and check whether the temps are correct. If wrong, you may have to select different sensors or customize the sensors.conf file.
Retrieved from 'https://wiki.unraid.net/index.php?title=Setting_up_CPU_and_board_temperature_sensing&oldid=9440'
Real Temp is a temperature monitoring program designed for all Intel single Core, Dual Core, Quad Core and Core i7 processors.
Each core on these processors has a digital thermal sensor (DTS) that reports temperature data relative to TJMax which is the safe maximum operating core temperature for the CPU. As your CPU heats up, your Distance to TJMax will decrease. If it reaches zero, your processor will start to thermal throttle or slow down so maximizing your distance away from TJMax will help your computer run at full speed and more reliably too.

Main Features
Reads temperature information from all Intel Core based processors. Pentium 4 processors are not supported.
Ability to individually calibrate Real Temp for each core of your CPU.
Program is based on temperature data gathered using a Fluke 62 IR Thermometer.
Test Sensors feature will check your DTS sensors for any sign of problems.
Keeps track of Minimum and Maximum temperatures with full logging features.
Reporting and logging of the Intel PROCHOT# thermal throttle activity bit.
Quick, very accurate and repeatable benchmark.
Displays MHz, TJMax, CPUID, APIC ID and Calibration settings.
High temperature alarm and shutdown feature based on CPU or NVIDIA GPU temperature.
No installation or registry modifications required.
Support for Windows 2000 / XP / Vista / Windows 7 / Windows 8 / Windows 10 (32 & 64 bit)
Forums
Screenshots
Documentation
See the Installation & Calibration Page.
Downloads
The latest version is available in the downloads section.
Changes in Version 3.70
Support for Sandy Bridge CPUs.
VID based power consumption estimates for the newer CPUs.
Improved log file formatting.
Added a single system tray icon that reports the maximum core temperature.
RealTemp GT updated for the 6 core Sandy Bridge E CPUs.
i7 Turbo GT 1.30 multiplier monitoring tool.
Changes in Version 3.60
Added Core i Turbo multiplier and Turbo TDP/TDC overclocking for Extreme / K series CPUs.
Added ATI GPU and improved NVIDIA GPU monitoring with CrossFire and SLI support.
Added a system tray / notification area font selector.
New Fahrenheit and 3 digit system tray option.
Fixed Core 2 Extreme multiplier reporting.
Fixed Core 2 mobile CPU C0% based load reporting.
Changed how Core 2 Super Low Frequency Mode (SLFM) is reported.
Improved sensor test consistency.
Bug with Reset button on ATI systems fixed.
RealTemp GT for the 6 core Gulftown CPUs was also updated.
Separate i7 Turbo GT multiplier monitoring tool for 6 core Gulftown CPUs added.
Changes in Version 3.40
Core i7/i5/Xeon socket 1156 support including accurate turbo mode reporting.
new information window for Nvidia GPUs with improved SLI support.
correct reporting of Super Low Frequency Mode (SLFM) for Core 2 mobile CPUs.
correct reporting of Intel Dynamic Acceleration (IDA) for Core 2 mobile CPUs.
added VID reporting to the main GUI for Core 2 based CPUs.
added a Fahrenheit=1 INI file option.
added the option to view a Task Manager based or a C0% based load meter.
added the ability to toggle C1E state and view the SpeedStep (EIST) state.
improved dual and multi-monitor support including Anchor mode.
includes RealTemp GT, a 6 core version of RealTemp for Gulftown CPUs.
includes i7 Turbo, a high precision multiplier monitoring tool for all Core CPUs.
and includes LoadTester, a variable load, single core testing program.
Skull=1 or Skull=2 INI option for reading each CPU on a Dual Quad system.
thanks rge, burebista and somebody on TPU for all of your ideas and help.
Changes in Version 3.00
Core i7 temperature and frequency support including Turbo mode.
NVIDIA temperature reporting with highest GPU temperature displayed in SLI mode.
Ability to run a file or shutdown based on user defined alarm temperature.
Updated interface with modern XP / Vista style and border in Mini Mode.
Start Minimized Vista issues finally fixed.
New RivaTuner plug-in support.
Extra information on the main screen and the retirement of the toggle button.
Switch to UNICODE for better international support.
Adjustable GUI colors and bold System Tray font option.
TJMax updated based on new Intel documentation and further testing.
Calibration formula simplified.
All new CPU Cool Down Test for a more thorough look at your sensors.
Clock Modulation & Minimize on Close options.
New CPU Load meter, log file headings and Distance to TJMax in the System Tray.
101 other improvements including initial Windows 7 Beta support.
Changes in Version 2.70
Redesigned user interface (GUI) with larger temperature fonts.
Added a movable Mini-Mode that is turned on and off with a double left mouse click on the GUI.
Added an Anchor position so the GUI will move to a fixed screen position after a double right mouse click.
Anchor position can be customized by holding down the Shift key while double right clicking.
The correct physical core order of Quad core processors is now reported based on APIC ID.
Added reporting of Minimum and Maximum VID as well as current VID.
A new user selectable high temperature alarm with two alarms for Quad core processors.
More accurate MHz calculation as well as FSB and CPU multiplier reporting.
New program Up Time feature.
Bug fix for log file output when using a Single or Dual core processor.
Fixed and improved the Default button in the Settings window.
Button labels and functionality changed in Settings window to follow the Windows style guide.
Improved multi-threading and memory usage for better long term stability.
Start Minimized option improved for better Vista support. See the documentation for more info.
Option to save the Log file in .CSV format for easy Excel support.
Gamer Mode temporarily retired.
Cpu Fan Speed Monitor
Changes in Version 2.60
Added a new Settings screen where all adjustments can be made in real time including TjMax.
Temperatures of any core are now displayed in the System Tray area. Thanks W1zzard!
4 font options for the System Tray.
Choice of Current, Minimum, Maximum or Average termperature displayed in the System Tray.
Test Sensors feature improved to increase repeatability.
CPU real time MHz calculation was re-worked for better SetFSB / ClockGen support.
Calibration options now include one digit after the decimal point for finer adjustments.
Experimental Gamer Mode introduced which allows core temperatures to be seen in some games.
Msi Motherboard Cpu Temperature Monitor
Changes in Version 2.5
Added minimize to System Tray support.
Correctly reports CPU MHz for the new 45nm processors.
Displays CPU voltage identification (VID).
Start minimized option and now opens and closes in the same location.
Changes in Version 2.41
Cpu And Motherboard Temperature Monitor Bundle
adjustable Idle calibration for each core and expanded range from -3 to 3.
adjustable TjMax for each core.
log interval options expanded from 1 to 60 seconds.
a change of timers used for the benchmark feature to better support overclocking from within Windows.
Reset button added to the gui to reset minimum and maximum temperatures.
better support of the Enter and Tab keys.