The Civilizations and known unique Leaders or Units / Buildings listed so far in Civilization VI. See Also: City-States.
Civilizations
[

editedit source

]
The Civilizations and their Leaders / Special Units / Agendas
Civilization
Leader
Leader Bonuses
Leader Agenda
Special Ability
Special Unit
Special Other
Special Infrastructure
Play Style
America
Roosevelt Corollary
Big Stick Policy
Founding Fathers
P-51 Mustang
Rough Rider
(UniqueUnit)
Film Studio (Building)
Arabia
Righteousness Of The Faith
Ayyubid Dynasty
The Last Prophet
Mamluk
Madrasa (Building)
Religion
Australia
Citadel of Civilization
Perpetually on Guard
Land Down Under
Digger
Outback Station (Tile Improvement)
Aztec
Gifts For The Tlatoani
Tlatoani
Legend of the Five Suns
Eagle Warrior
Tlachtli (Building)
Domination
Brazil
Magnanimous
Patron of the Arts
Amazon
Minas Geraes
Street Carnival (District)
Culture
China
The First Emperor
Wall of 10,000 Li
Dynastic Cycles
Crouching Tiger Cannon
Great Wall
(UniqueTile Improvement)
Culture
Egypt
Mediterranean's Bride
Queen Of The Nile
Iteru
Maryannu Chariot Archer
Sphinx
(UniqueTile Improvement)
England
Pax Britannica
Sun Never Sets
British Museum
Sea Dog
Redcoat
(Unique Unit)
Royal Navy Dockyard (District)
Domination
France
Catherine's Flying Squadron
Ladies-In-Waiting
Grand Tour
Garde Impériale
Château
(UniqueTile Improvement)
Culture
Germany
Holy Roman Emperor
Iron Crown
Free Imperial Cities
U-Boat
Hansa (District)
Science
Greece
Thermopylae
With Your Shield or On It
Plato's Republic
Hoplite
Acropolis (District)
Culture
Surrounded By Glory
Delian League
Plato's Republic
Hoplite
Acropolis (District)
Culture
India
Satyagraha
Peacekeeper
Dharma
Varu
Stepwell
(UniqueTile Improvement)
Religion
Japan
Divine Wind
Bushido
Meiji Restoration
Samurai
Electronics Factory (Building)
Domination
Kongo
Religious Convert
Enthusiastic Disciple
Nkisi
Ngao Mbeba
Mbanza (District)
Culture
Macedon
To The World's End
The Hypaspists
The Hetairoi
(Unique Unit)
Basilikoi Paides (Building)
Norway
Thunderbolt Of The North
Last Viking King
Knarr
Berserker
Viking Longship
(Unique Unit)
Stave Church (Building)
Domination
Poland
Lithuanian Union
Saint
Golden Liberty
Winged Hussar
Sukiennice (Building)
Persia
The Immortal
(Unique Unit)
The Pairidaeza (Building)
Rome
Trajan's Column
Optimus Princeps
All Roads Lead To Rome
Legion
Bath (District)
Domination
Russia
Grand Embassy
Westernizer
Mother Russia
Cossack
Lavra (District)
Culture
Scythia
People of the Steppes
Backstab Averse
Killer of Cyrus
Saka Horse Archer
Kurgan
(UniqueTile Improvement)
Domination
Spain
El Escorial
Counter Reformer
Treasure Fleets
Conquistador
Mission
(UniqueTile Improvement)
Religion
Sumeria
Adventures With Enkidu
Ally of Enkidu
Epic Quest
War-Cart
Ziggurat
(UniqueTile Improvement)
Let's put on civilizations in their real starting locations on a real Earth. This time with the 2 new nations and a bigger map! For more info on Civilization. ALL the vanilla civilizations have been revealed for Civilization VI! Let's have a look at their details and touch on some basic strategy! More civs covered. In vanilla Civilization VI, there is one leader for each civilization (except the Greeks). The Rise and Fall expansion adds Chandragupta as an Indian leader, the Gathering Storm expansion adds Eleanor of Aquitaine as an English and French leader, and the Vietnam & Kublai Khan Pack adds Kublai Khan as a Chinese and Mongolian leader.
Added in Rise and Fall:
Chandragupta - India alternate leader
Genghis Khan - Mongolia
Poundmaker - Cree
Seondeok - Korea
Wilhelmina - Netherlands
Tamar - Georgia
Robert the Bruce - Scotland
Lautaro - Mapuche
Shaka - Zulu
Expected Future Civilizations
[

editedit source

]
Soon to be added in The Gathering Storm:
Mathias Corvinus - Hungary
Kupe - Māori
Wilfrid Laurier - Canada
Pachachuti - Inca
Mansa Musa - Mali
Christina - Sweden
v

·

d

·

e

Civilizations and Leaders

Civilizations

America • Arabia • Australia • Aztec • Brazil • China • Egypt • England • France • Germany • Greece • India • Japan • Kongo • Macedon • Norway • Poland • Persia • Rome • Russia • Scythia • Spain • Sumeria

Leaders

Teddy Roosevelt • Saladin • Montezuma • Pedro II • Qin Shi Huang • Cleopatra • Victoria • Catherine de' Medici • Frederick Barbarossa • Gorgo • Pericles • Gandhi • Hojo Tokimune • Mvemba a Nzinga • Harald Hardrada • Jadwiga • Trajan • Peter • Tomyris • Philip II • Gilgamesh • John Curtin • Cyrus II • Alexander
Retrieved from 'https://civ6.fandom.com/wiki/Civilizations?oldid=30636'
One of the first choices players will make before starting a game of Civilization 6 is which Civ and leader they wish to play with. This is an extremely important choice, as players wanting to win a certain way should pick the best civ for each victory condition. Unfortunately, choosing a leader is something players will rarely need to put any thought into, as most civilizations only have one leader which is chosen by default upon picking that civ. Firaxis Games could fix this by adding more leader options to each civ, and it wouldn't mess with the game's balance.
Best Civs Civ 6
What civ the player chooses affects what types of units they can train, what unique buildings they have access to, and what sorts of things the player will excel at. For example, Canada has some unique passive abilities which lend towards getting a diplomatic victory while Macedonia's unique troops make it much more suited for a domination victory. Despite there being only one leader for most civs in Civilization 6, the game takes care to separate what abilities come from the civ itself and which come from the leader. Because of this, it seems like the systems may already be in place.
RELATED: How to Form Corps in Civilization 6
Civilizations With Two Leaders
Initially, the only civilization with two leaders was Greece, and players had the choice between Pericles or Gorgo. The latter offers a much more aggressive playstyle, while Pericles' culture boosts promote taking a different approach. With the introduction of DLCs, three other civilizations have joined the list of ones with two leader choices, the English, French, and Indian civs. England and France are unique in that their second leader are actually the same, being Eleanor of Aquitaine, who historically had a hand in both countries' history. Finally, India received Chandragupta as its second leader, representing the less peaceful side of the country's history.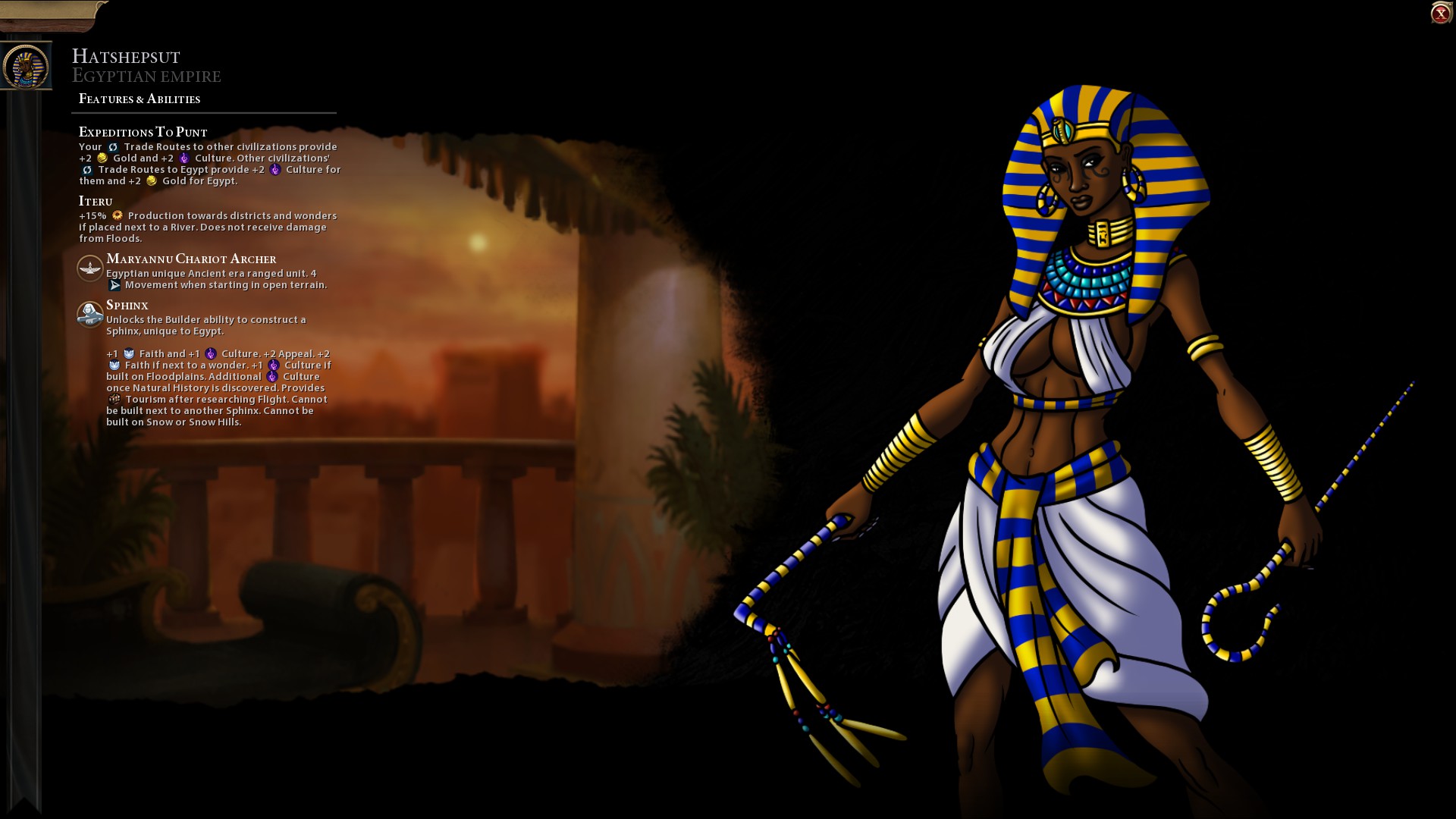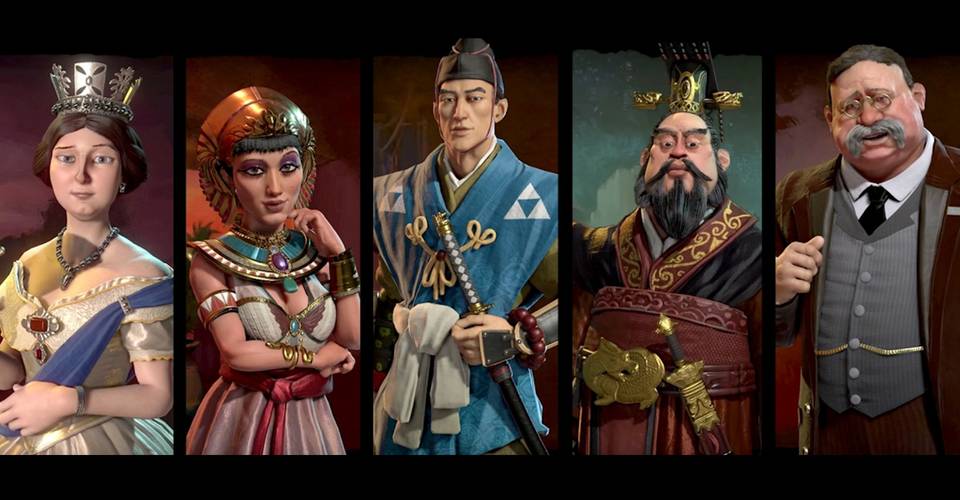 Having two leaders helps make civilizations feel more varied within themselves, and gives the developers more freedom to play with different concepts. English players can try to colonize the world with Victoria or use Eleanor's loyalty boosting abilities to gain power all while still playing the civ they like the best. Likewise, a player may be very much into the idea of playing Greece, but not be a huge fan of Gorgo's militant tendencies. That player has the option to play Pericles and try something new. This kind of freedom should be given to all civs, and developers shouldn't be shy about trying certain combinations.
Civ 6 Potential New Leaders
The list of civs and leaders in Civilization 6 is already expansive, but adding secondary leader options would only require developers to think up abilities for these leaders that would synergize with the existing civilization abilities. This may not be the easiest task, but it would go a long way to making games feel more diverse. There are several famous leaders which come to the mind quickly as well which players no doubt would love to see added to the game.
For example, the American civ offers Teddy Roosevelt as a leader, but any other popular presidents could work as well, with George Washington being a popular choice. Charlemagne is another frequently requested addition who could serve as a leader for Germany and perhaps other civilizations as well in a similar way to how Eleanor works. Gustavus Adolphus of Sweden would provide that civ with a more militant playstyle, while any of Rome's famous leaders could be great choices as well.
Civ 6 All Civs Afraid
Civilization 6 is available now for PC, PS4, Switch, and Xbox One.
Civ 6 Tsl All Civs
MORE: Civilization 6: How to Deal with Barbarians in the Early Game
Ellen DeGeneres PS6 Tweet Criticized By Gamers