Best Wechat Mini Programs
China means WeChat. In this article, we explain how to build a WeChat Mini Program — a tiny app that's necessary for any company aiming at this huge market.
Content:
Here are some case studies along with best practices advice for luxury marketing. DFS Master Of Time. Marketing Tactic – Exclusivity. The mini-program showcases an exclusive range of fine watches and accessories. The curation of all the luxury products with large front-facing visuals illustrate a premium and polished feel. Exclusive function from WeChat – A mini program that can connect to multiple customer service in other mini programs. Most brands that have in-depth collaboration with WeChat are included. Published content is from the staff's point of view, which makes the marketing looks more humanised and native. Quick review about Wechat Mini-program. WeChat mini-programs are "sub-applications" within the WeChat ecosystem. They enable to provide advanced features to users such as e-commerce, task management, coupons, etc. Wechat mini-programs have been in constant growth since the beginning of 2018.
What is a WeChat Mini Program and how does it work?
In fewer than ten years, the Chinese messenger WeChat, developed by Tencent, has turned into a full and mostly independent ecosystem, much like China itself. Today, WeChat offers a social media network, an app store, shops, its own payment system, and a huge selection of mobile games.
WeChat is where practically everyone in China spends their time, so it's the perfect place to advertise and sell products. And with WeChat Mini Programs, sub-applications within the WeChat app, this has become easier than ever.
WeChat Mini Programs are small apps that integrate directly into WeChat and run in the WeChat app. They're different from traditional apps in that they run faster, are easier to develop, and don't need to be installed. They also offer companies access to WeChat's enormous user base. But they have their limitations.
WeChat Mini Programs are fast because they're small — the limit for a WeChat Mini Program is 10MB to make sure they don't require a lot of processing power. But for the same reason, they're not ripe with features — you can only build so many features in a mere 10MB.
Also, users can't share Mini Programs on WeChat Moments, a social network-like space for WeChat users.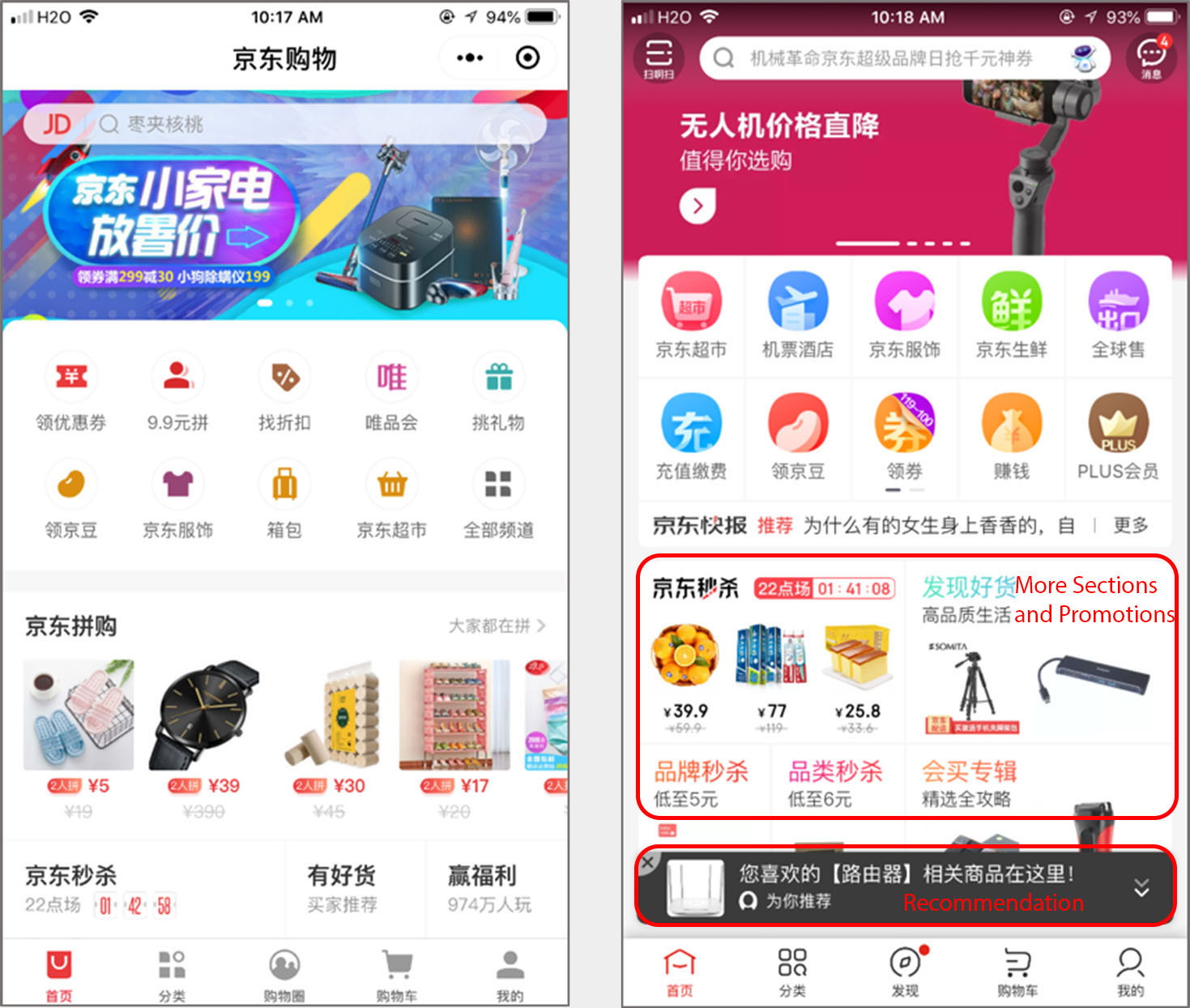 There are two main ways to use a Mini Program for your business:
Build a Mini Program with only the most important feature(s) and offer your customers a full app for everything else.
Build several Mini Programs, each with just a couple of features.
Although it's possible to only have a Mini Program without developing a native mobile app, most companies use their Mini Programs to put the most crucial features at their customers' fingertips but still offer a full-sized app for those who want it. A Mini Program can also serve as an advertisement for the main native app.
Check out also: How to Launch an App in China
What businesses need Mini Programs?
In China, no matter who your business's target audience is, they're probably using WeChat. So it won't hurt to have a Mini Program in any case. However, there are businesses that can benefit more than others from a WeChat Mini Program (or several).
Internet data plans in China are expensive — so much so that only about 58% of citizens have any kind of internet access. As we've already mentioned, one of the biggest perks of WeChat Mini Programs is that they're small and don't need to be installed. Using a Mini Program instead of a native app allows your customers to save on internet traffic. This makes Mini Programs especially popular among users with low purchasing power — in particular, those living in Tier 3 and Tier 4 cities.
Most purchases via Mini Programs in 2018 were for an amount between 200 and 1,000 Yuan per month (that's around $30–145). So if you're selling affordable products or services and/or your potential customers spend little, you absolutely must have a WeChat Mini program.
At the same time, the simplicity with which users can achieve their goals via Mini Programs — buy things, complete tasks, or even just kill some time with a game — makes them popular in Tier 1 and 2 cities as well.
What kinds of Mini Programs exist on WeChat?
The short answer to this question is all kinds. If it can be coded in JavaScript, fits within the 10MB size limit, and complies with the WeChat Terms of Service and Chinese legislation, it can be made into a WeChat Mini Program.
WeChat news
Since the majority of Internet users in China — 600 million — are using WeChat, it's no surprise that it's become a major player in the news industry. A Mini Program can be a communication channel for users to interact with news outlets and a quick link to official WeChat accounts, where updates can be added instantly and effortlessly. Whether you're an official news outlet or a YouTube influencer, a Mini Program can be a convenient way to acquire new followers.
WeChat Mini Games
Mini Games are becoming more and more popular on WeChat: throughout 2018, the average time spent on games inside WeChat increased more than threefold, from 5.3 to 17.4 minutes daily. And the trend continues.
WeChat Mini Games resemble hyper-casual games in that they offer short sessions, are lightweight, have mechanics that are easy to grasp, yet are quite diverse. If you're interested in developing mobile games, check out our guide on how to create a hyper-casual game.
As of May 2019, games accounted for 15% of the top 100 WeChat Mini Programs.
WeChat e-commerce
E-commerce accounts for 18% of all Mini Programs on WeChat. The platform offers two major incentives for e-commerce businesses to use Mini Programs:
The WeChat user base is one of the biggest in China
The speed at which Mini Programs load triggers impulsive buying decisions
It's easy to rethink the decision to purchase while you wait for a page to load. Mini Programs load fast (since they're small), and their seamless integration with WeChat Pay (WeChat's own payment system) allows for fast buying. Users see a product, see that it's discounted (for example, on a seasonal sale), and buy in the blink of an eye.
However, in most cases, this only pertains to affordable products.
O2O (online-to-offline)
Lately, Mini Programs have seen an increase in use by brick-and-mortar establishments like restaurants and car services. McDonald's China has a Mini Program that offers customers discounts if they show a cashier a Mini Program on their phone. Establishments can place an ad near their store with a QR code for a discount coupon: customers scan the QR code, it sends them to a WeChat Mini Program, and they download it and get some benefits for using it. Discounts and bonuses are the most widespread uses of Mini Programs by physical stores.
How to make your own WeChat Mini Program
Developing WeChat Mini Programs isn't difficult if you're a developer with knowledge of JavaScript, the programming language used to make Mini Programs. If you're not a developer yourself, you can always ship this task off to a development company.
The whole process of developing WeChat Mini Programs is quite easy: most features in Mini Programs are a default. It's possible to customize the look of your WeChat Mini Program, but this customization is limited. The API integration is also restricted — an HTTP query is allowed only for WeChat-approved sites. The reason for all these limitations is to achieve perfect integration and speedy functionality within the WeChat ecosystem.
Tencent (the WeChat parent company) offers software for Mini Program developers where they can write their code (or paste it if they write it in some other program), check if the app looks the way it should, test it, and submit it for review. You only need a Mini Program account to use the software. And once your Mini Program is reviewed and approved, it's online and users can search for it within WeChat.
The difficulty lies only in finding a WeChat Mini App developer — a specialist who can write code using Tencent's proprietary JavaScript framework. At Mind Studios, our front-end developers are well acquainted with WXML and WXSS, so we can help you build a Mini Program.
Here are several recommendations on what to keep in mind to build a successful Mini Program:
Keep it as straightforward as possible — Any extra steps consume space allocated for the app and add time for users to complete the task.
Make your WeChat Mini Program design as simple as possible — Mini Programs are used to do things quickly and efficiently, so remove anything that doesn't serve a purpose.
Prioritize — Research what features in your native app or on your website are used the most by customers and build a Mini Program with those features in mind.
Focus on a single feature (or maximum two) — Rather than clipping functionality to imitate a native app, build several Mini Programs around the core functionality.
Responsive design is a must — Older and smaller phones aren't that rare in China.
How to advertise your WeChat Mini Program
There are two popular ways of sharing on WeChat — sending content to personal and group chats and posting on WeChat Moments. However, as we've mentioned, you can't share links on Moments, including links to Mini Programs, which mostly leaves you with direct sharing in chats.
Wechat Mini Program Development
But as with most obstacles in life, there are ways around this.
Recently, companies have started using QR codes for advertising Mini Programs on Moments. It's quite a clever way around the link sharing ban, as a QR code is essentially just an image, even if it does hide a link inside.
Contact popular WeChat users — influencers, key opinion leaders — and ask them to advertise your Mini Program. It's one of the best ways, especially if your business involves e-commerce in the fashion and beauty industries. There is a wide range of popular Chinese beauty bloggers today, and most of them have accounts on WeChat with thousands of followers. They can share a QR code for your Mini Program on their Moments for everyone to see and follow.
And, of course, you can always use the digital grapevine — direct chat sharing with specially designed small banners. We recommend making Mini Program sharing banners varied, colorful, and attractive so that when shared in an active chat, the card is easily spotted and remembered.
Wechat Mini Program Code
What is the cost to make a WeChat Mini Program?
Low development costs are one of the biggest benefits of Mini Programs, alongside development speed.
A WeChat Mini Program can be developed with the following specialists:
1 project manager
1 UI/UX designer
1 front-end developer
1 backend developer
Mini Program testing can be done right within the software provided by Tencent, so there's no need for a traditional QA specialist. In two cases, you can skip on the backend as well:
If your Mini Program is only an addition to your native app, in which case they'll have the same server
If there's no need for data storage, in which case your Mini Program doesn't require a server at all
As WeChat Mini Programs usually have no more than a couple of features, their development is simple and speedy. The cost of a WeChat Mini Program will very much depend on your business and the specific features you need to implement. If you're interested, get in touch with us for an estimate.
Best Wechat Mini Programs
WeChat Mini Programs for Chinese market
WeChat Mini Programs are young, but their use is increasing rapidly. Anyone aiming for the Chinese digital market should probably create a WeChat Mini Program — or at least consider it seriously. While the whole concept is still far from perfect, the benefits of WeChat Mini Programs are already clear:
WeChat advertising among a large user base
Wide possibilities for finding new customers
Simplicity of integration into the WeChat ecosystem
Low development costs and easy to launch
Easy to access and don't need to be downloaded
If you're looking into possibilities and searching for information about how to develop an app for the WeChat platform, get in touch. Our specialists can answer all your questions, offer tips and recommendations, and provide an estimate of costs.
WHAT'S IN IT?
Over 300 slides exploring the best practices of the Wechat Mini-program. Including real cases from LVMH, Bvlgari, Christie's, Ikea, and much more. Discover exclusive insights from our contributors, Matthew Brennan from China Channel, Thomas Portolano from Christie's, Jean-Christophe Babin from Bvlgari, Victor Ariza from LVMH Innovation…
Best Wechat Mini Programs
With over 450 million daily active users (DAU), Wechat mini-program, the sub-application built within the WeChat ecosystem, is one of the most-used platforms to activate Chinese consumers. Extremely versatile, quick and affordable to develop, it allows brands to engage and convert consumers.
Wechat Mini Programs
In partnership with Fabernovel, we have been strategizing, designing, and building numerous WeChat mini-programs for international brands and Fortune 500 companies. We are very proud to finally release an all-in-one guide for WeChat mini-programs, in which we have put our analysis, experience, knowledge, learnings as well as best practices on how to build a successful WeChat mini-program.