Avira Internet Security Suite 2019
Premium personal security now comes with advanced password management capabilities in addition to malware detection and a software updater with the new Avira Internet Security Suite 2019.
Premium personal security now comes with advanced password management capabilities in addition to malware detection and a software updater with the new Avira Internet Security Suite 2019.
Tettnang, Germany, October 1st 2018 - It takes more than malware detection to stay secure in today's always-connected world. Avira takes an advanced, three-faceted approach to securing the digital lives of users with its all-new Internet Security Suite 2019. In addition to protecting devices from a wide spectrum of incoming malware, it also patches device and system vulnerabilities with its Software Updater, and helps people keep their online accounts more secure with a Password Manager and its unique "Security Status" feature.
Tackling risks from inside and out
Avira research shows that people are at risk from three major classes of external and self-generated threats.
Passwords are the major self-generated threat. Over 60 percent of online individuals are using the same or very similar passwords across multiple accounts according to Statista data. Use of weak or recycled passwords make it easier for hackers to do "credential stuffing," trying out the password information from a single data breach on multiple accounts. "Studies show that 80-90 percent of login attempts in online stores are from unauthorized individuals," said Vikas Seth, Product Unit Lead at Avira. "Bad password choice and management make this possible."
Out-of-date devices are a second threat, combining both external and user-generated vulnerabilities. "We've analyzed 4.6 million devices over the past three months and found outdated or un-updated software on 72.21% of them," said Vikas Seth. "That's three out of every four devices at risk from a potential vulnerability."
Malware is a third, continuing external threat to users. Avira has around 500 million examples of malware types in its files. This ever-growing list includes ransomware, exploit kits, adware, and infected websites.
Triple-faceted approach to increasing your security
The all-new Internet Security Suite 2019 tackles the primary security threats head on. "Good security is not an either-or decision, it's about getting the coverage you need for three major vulnerable areas in your online life: passwords, updates, and malware," said Travis Witteveen, CEO of Avira. "With these three layers, Avira Internet Security Suite helps people make the right security choices more easily."
Avira Internet Security Suite 2019 Crack
1.7 million web attacks are detected every day! Surfing, shopping, banking, updating social media Internet Security offers real-time protection against malware, viruses, phishing, and more. Software companies expect you to know about updates, find the right one and then install it. Avira Internet Security Suite is a complete and comprehensive security platform that makes Internet protection simple. With it's cutting-edge antivirus technology it protects you from all online threats (viruses, Trojans, ransomware, email scams and malware etc.) while improving your PC's performance. Op Voorraad: Direct per e-mail geleverd Avira Internet Security Suite 2019 voor 1 apparaat ondersteunt alle talen en landen binnen de Europese Unie. Na aankoop wordt de activatiesleutel, link naar download en handleiding direct per e-mail geleverd. Dit Avira-pakket is na activatie 1 jaar geldig op 1 apparaat. Licentiecode + Download + Handleiding Meertalig, Europese licentie Voor Windows, Mac. Avira Internet Security Suite offers premium web protection, making sure you never fall victim to malware, while simultaneously safeguarding your shopping, banking, and surfing. On top, our integrated Firewall Manager helps you prevent unauthorized PC access and data leaks. Avira Internet Security Suite is basically Avira Antivirus Pro + Firewall.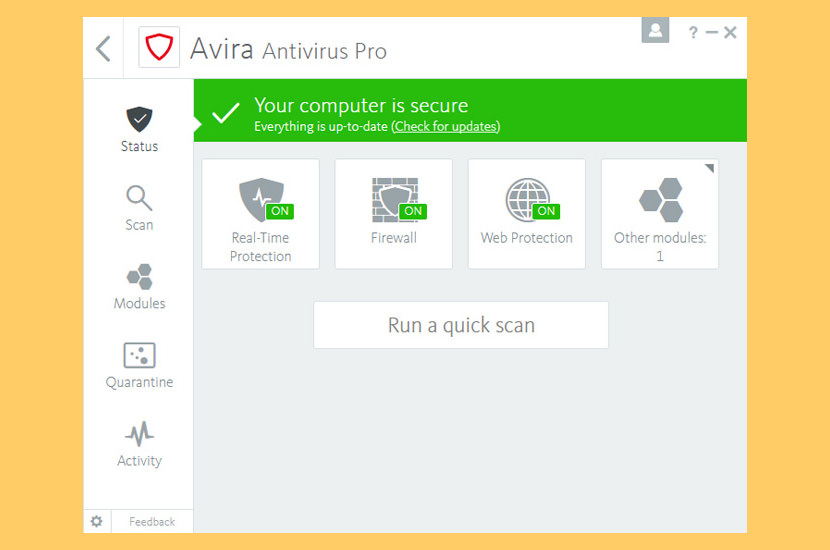 Covers your online vulnerabilities

The "Security Status" page in the password manager lets the user know in real time if there has been a global breach of an account, website, or password and helps them quickly change passwords. Users have the choice between picking their own secure passwords or letting Avira generate its own. The app will also rate the strength of the password and notify the user if this password is being used for multiple web-sites. In addition, all accounts that reuse the same password will also get the same alert in the event of a breach. Surfing is also safer with the password manager checking URLs for phishing sites and sending user notifications for secure https sites. All this is in addition to the usual password manager abilities of generating, saving, and encrypting passwords.

Keeps your device fully updated

Keeping a device fully updated takes an effort to both find and install the patches. Not all device updates are automatic, and ignoring or postponing updates comes with the risk of leaving the device wide open to new and emerging threats. In addition, a computer user can easily ignore the list of critical, recommended, and optional updates for their device.
"This is an extremely common and underrated threat," points out Vikas Seth. "This is why Avira provides a Software Updater as an integrated part of our security solution. With just a single click, people can keep their device fully updated for more than 150 various applications and have automatic updates for security issues."

Provides comprehensive and fast malware relief

Thanks to machine learning techniques for classifying and detecting malware, the size of the new Avira detection files has been slashed by a factor of four. The new format files provide award-winning detection, while also reducing the time required to start a device, get updates, and do everyday operations. With the newest detection files, Avira performance has surged ahead, averaging 2-5 times better performance than other security products on the market according to internal studies.
Light impact on your system resources
Internet Security Suite 2019 is for PCs running Windows 7 or higher (with Service Pack 1 and the latest updates). It's available for 44.95 Euro per year per device or a 4.95 Euro monthly charge. Avira Prime members will receive the Password Manager features at no additional cost.
About Avira
Avira's mission is to protect people in an increasingly connected world. As the original pioneer of freemium security software, Avira offers consumers a complete portfolio of security, privacy, and performance tools for free with premium options. For over 30 years, Avira has been consistently innovating and adapting to the ever-changing digital world and today offers products for Windows, Mac, Android, iOS and smart homes that are consistently rated best-in-class.
Avira is now a part of NortonLifeLock Inc., a global leader in consumer Cyber Safety. For more information about Avira visit www.avira.com.
Avira Internet Security Suite provides strong antivirus protection and a host of other extras.
The core antivirus engine is a good one, which normally scores very well with the independent testing labs. It ranked 5th out of 22 in the recent AV-Comparatives Real World Protection tests, for instance (equivalent to Bitdefender), with a very creditable detection rate of 99.2%.
The program also provides capable browsing protection, though, detecting and blocking malicious websites before they can even load, and preventing drive-by downloads.
Integration with the Avira Protection Cloud improves performance, with unknown files classified in real time.
The Browser Tracking Blocker helps to maintain your privacy online by preventing more than 600 networks from recording your web activities.
The Website Safety Advisor adds icons to your search results (if they're carried out via the Avira toolbar), warning you of potentially dangerous sites before you click.
Integration with the free Avira SocialShield helps protect your kids on Facebook, Twitter, Google+ and others.
Security Suite also includes Avira's System Speedup module to tune your PC for maximum performance.
Your products can now be managed through Avira Online Essentials, a web dashboard for installing and displaying information on all your Avira apps and devices (computers, tablets and phones).
Please note, there is no stand-alone trial of Avira Internet Security Suite. The download link gets you Avira Antivirus Pro. To add other features sign in at my.avira.com, find your device (if you've more than one), scroll to the bottom of the screen and click 'Add' for whatever extras you need ('Browser Safety', 'System Speedup', 'Identity Safeguard' and 'Dropbox' - again).
Verdict:
Avira Internet Security Suite 2016
It's not a significant update, but Avira Internet Security Suite 2019 scores where it matters, and still does a great job of protecting your PC from harm